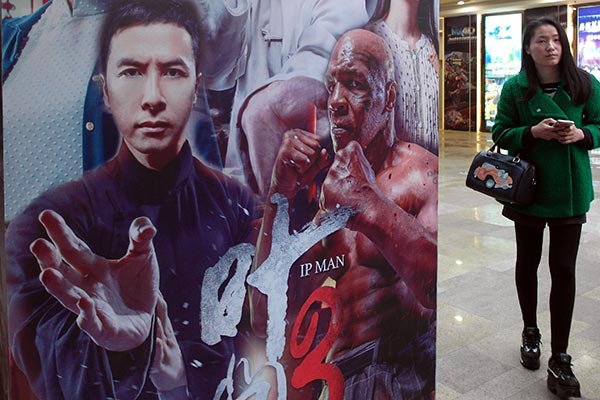 A moviegoer walks past a poster of Ip Man 3 in Yichang, Hubei province. The film's distributor was put under investigation for buying tickets itself to bolster box office numbers. LIU JUNFENG / FOR CHINA DAILY
It's been a tough few weeks for some of China's corporate reputation managers.
First, there was the box office fraud, then the stock exchange delisting over cooked books and finally, scandals involving spurious vaccines and fake baby formula.
The story that attracted the most global attention, though, was the phantom screenings of the martial arts flick, Ip Man 3, starring Donnie Yen and Mike Tyson. The movie is about the life of legendary Wing Chun master Yip Man.
Investigators said last month that the film's main distributor bought 56 million yuan ($8.65 million) worth of the tickets itself to bolster box office numbers. In addition, Beijing Max Screen, also known as Dayinmu Film Distribution, admitted fabricating more than 7,600 screenings that it claimed generated millions of yuan more.
The government's movie regulator, the State Administration of Press, Publication, Radio, Film and Television, reacted with a one-month ban on Beijing Max Screen's operations.
That is despite a pledge by the regulator last year to impose stricter measures in cracking down on box office fraud.
To get a perspective on how these scandals might affect the global image of Chinese industries, I reached out to a few international experts in the field.
"These scandals have a deep and lasting effect," said Cleo Paskal, a visiting Trudeau fellow at the Universite de Montreal's Center for International Studies and Research.
Other experts agree that tougher actions are needed to stamp out fraud.
The film watchdog "should demonstrate that it doesn't tolerate fraud at the box office or any institution and be clear about the penalties for people who contravene that", said Martin Waxman, president of Martin Waxman Communications, a Toronto-based firm that advises clients on reputation management.
But the Ip Man 3 incident was hardly isolated.
There were also suggestions of fraud last year when distributors reported mind-boggling box office numbers for the war epic The Hundred Regiments Offensive and the 3-D fantasy Monster Hunt.
Stephen Hahn-Griffiths, one of the directors of the Reputation Institute, a leading global research and advisory firm based in Boston, stressed the need for transparency.
"The Chinese movie establishment, including all of its constituents, from content creators, the studios, distributors, to movie theaters, needs to show that it is leading the way in countering any form of manipulation, or wrongdoing," Hahn-Griffiths said.
As the box office scandal unfolded in Beijing, authorities in Shanghai were dealing with another kind of fraud.
An investment firm, Zhuhai Boyuan Investment Co Ltd, was accused of forging commercial bills as well as inflating assets and profits to boost its share price at the Shanghai Stock Exchange. The China Securities Regulatory Commission acted swiftly and delisted the firm, the first company to be removed from the bourse due to illegal activities.
In ejecting Zhuhai Boyuan from the stock market, the CSRC showed leadership and resolve to crack down on financial crime.
Back in the capital, it is business as usual for Beijing Max Screen, barely a month after its operations were suspended.
Paskal, who is also the author of the award-winning book Global Warring: How Environmental, Economic and Political Crises Will Redraw the World Map, feels that if proper action is not taken the market share for Chinese innovations and products will be undermined.
"A dollar gained by corruption today can lose you 10 tomorrow."
The sixth Beijing International Film Festival is now underway in the city. It's a good time to show the country's determination to the world that it is serious about fixing fraud problems in the film industry.
Such toughness is required to restore business confidence, especially considering China's status as the world's second-largest economy.
For Beijing Max Screen, the show mustn't go on!