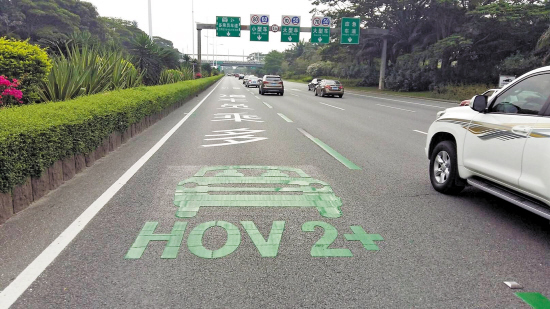 The HOV lane in Shenzhen. [Photo/ycwb.com]
SHENZHEN - South China's Shenzhen city in Guangdong province will introduce a carpool lane limited to vehicles with at least one passenger during rush hour on working days.
The high-occupancy vehicle lane, or HOV lane, will open on Binhai Road, a freeway connecting the city's Nanshan and Futian districts, traffic authorities announced Tuesday.
Small vehicles with no more than nine seats must carry at least two occupants, including the driver, in order to drive in the lane from 7:30 am to 9:30 am, and from 5:30 pm to 7:30 pm on working days. One passenger at least 12 years in age must sit in the front seat, said a police officer at the press conference.
Trial operations will start April 18 before the lane opens officially on April 25. Apart from a 300-yuan ticket ($46), violations will be recorded on the personal credit records of drivers, which will affect areas such as employment and obtaining a loan, according to the police officer.
Currently, traffic flow on Binhai Road is nearly 7,000 passenger cars per hour at peak hours, with around 74.2 percent of vehicles carrying only the driver.
Since HOV lanes were first introduced in the United States in the late 1960s, they have been adopted by many countries, including Canada, Australia and New Zealand, but are rare in China.
Shenzhen, which borders Hong Kong, has more than 3 million vehicles. Vehicles have become the largest contributor of pollutants, responsible for 70 percent of the city's air pollution, according to the city government.
To tackle rising congestion and pollution, the city enacted a car purchasing restriction system in late 2014, requiring prospective buyers to acquire new car plates by lottery or auction.