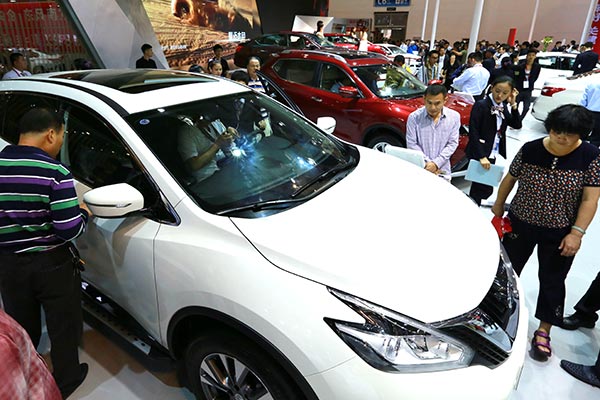 Visitors look at a car on display during the Hainan International Automotive Industry Exhibition and South China International New Energy Vehicles Exhibition in Haikou, South China's Hainan province, March 10, 2016. [Provided to China Daily]

Expert says demand to rise, popularity of SUVs to continue
China sold 6.53 million vehicles in the first quarter of the year, a 6 percent increase year-on-year, according to the China Association of Automobile Manufacturers.
A total of 2.44 million cars were sold in March, a 54.3 percent surge from February and an 8.8 percent rise from the same month last year.
Experts said the March performance is usually much better than in February because the weeklong Spring Festival often falls in February and people rarely buy cars during the festival.
Yao Jie, the CAAM's vice-secretary-general, said the sales in the first quarter are an indicator of consumer demand that was contained in preceding months, and the trend would continue for some time to come.
Yao expects the growth rate this year to reach about 6 percent, which would translate into 26 million vehicles sold, owing to the enthusiasm of Chinese for SUVs and the government's favorable policies for small-engine cars.
A total of 1.96 million SUVs were sold in the first quarter, a 51.5 percent surge year-on-year and a continuation of the sales momentum seen last year.
The five most popular SUVs, according to the China Passenger Car Association, are all from Chinese manufacturers: the Haval, Baojun, Trumpchi, Changan and JAC.
Volkswagen's Tiguan and GM's Encore, which ranked sixth and seventh, saw their combined sales reach 115,100 units, while Haval H6 sales stood at 121,300 units.
MPVs also saw strong growth. Nearly 700,000 units were sold from January to March, a 14.94 percent rise year-on-year.
Sales of sedans and crossovers were not as strong. A total of 2.81 million sedans were sold in the first three months, a 9.27 percent fall year-on-year. Crossovers saw their sales in Q1 slump more than one-third year-on-year to merely 218,300 units.
China's favorable policy on small-engine cars is still going strong, with 1.46 million cars with engines at or below 1.6 liters sold in March. That accounts for 71.2 percent of the total passenger vehicles sold in the month, a similar percentage to that of the previous two months.
New-energy cars saw their sales slow somewhat following scandals involving companies attempting to cheat the government to get subsidies earlier this year.
Their sales in the first three months totaled 58,125 units, a 100 percent rise year-on-year, according to CAAM statistics.
Of those, 42,131 electric cars were sold in the period, up 140 percent year-on-year, and 15,994 plug-in hybrid models delivered, a 43 percent rise from the same period a year earlier.
Chinese passenger car brands saw their market share edge 1.8 percentage points to 45 percent by the end of March. German passenger brands followed by 19.7 percent, a fall of 0.7 percentage point year-on-year, while Japanese brands saw their market share grow 1.5 percentage points to 13.8 percent.
Chinese brands seized a market share of 58.8 percent in the SUV market and 19.9 percent of the sedan market by the end of March.