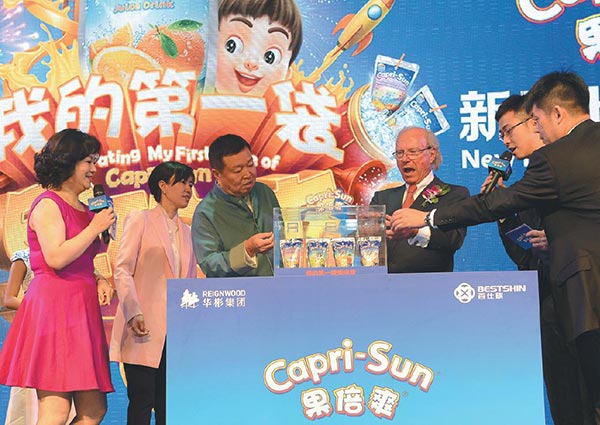 Representatives of Capri Sun, a German company that makes wholesome fruit juices for kids, at the launch of the company's products in Beijing. LAN SHAN FOR CHINA DAILY

New child policy accelerates German juice maker Capri Sun's expansion in the Chinese market
Capri Sun, a German company that makes wholesome fruit juices for kids, will speed up its expansion in the maturing China market as it sees potential for great profits.
For Capri Sun, which is sold in foil pouches, children aged between six and 14 are target consumers.
Following China's new policy that encourages married couples to have two children as against one in the past, the juice maker is bullish on the long-term growth of the China market.
"The second-child policy will not have an immediate impact on us, but in the next five years, it will definitely help drive our sales growth," said Chen Tao, managing director of Capri Sun China.
Founded in 1969, Capri Sun entered China in 2005. But it did not have widespread distribution channels until it collaborated with Reignwood Group, which distributes energy drink Red Bull in China.
Last year, Capri Sun launched its own operations and sales in supermarkets, shops and cinemas.
China has about 300 million children aged under 14, who constitute a niche multi-beverage market with significant potential for growth.
The children's milk market in China is worth more than 4 billion yuan ($613 million), according to a report by chinabgao.com, a website that specializes in market analysis.
In 2015, Capri Sun's sales reached 16,000 tons in China, or 80 million pouches. It aims to reach 120,000 to 200,000 tons in the next five years.
"As we're a latecomer, we will increase our marketing and advertising efforts in China. Currently, we've focused on enhancing the popularity of our products, and we will explore more cooperation opportunities with e-commerce channels in the next few years," Chen said.
In China, the most important reason for a child to like a beverage is its flavor. Other factors include nutrition, good packaging, and advertising, respectively, according to the report of chinabgao.com.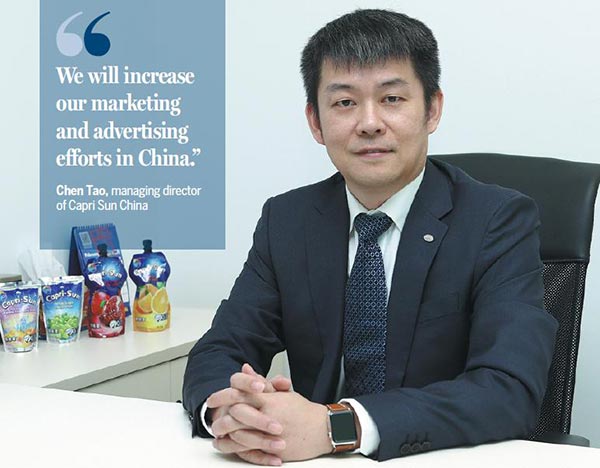 Chen Tao, managing director of Capri Sun China.
The report said it is not enough to just have nutrition and good flavor. Juice producers need to meet the psychological and functional demands of children in juice packaging, which should be safe, convenient, and bring happiness.
The main beverages that children usually drink at home are carbonated drinks, milk and water. At school, they mainly drink water, milk and soy milk, according to the report.
The pure juice of Capri Sun, which does not contain any preservatives, pigments and sweeteners, is priced 4 yuan ($0.61) per pouch. It comes in four flavors: orange, white grape, pear, and peach apple.
Its newly launched larger packet retails at 6 yuan, and is suitable for adults as well. In addition, Capri Sun launched low-calorie puree products.
To cater to different tastes of consumers across geographies, Capri Sun offers 27 flavors globally, Chen said. In China, juices are a bit sweeter than Europe, where they tend to be sour.
"China has very few children's drink brands. Ten years ago, Chinese consumers didn't think it was necessary to buy specific drinks for their children," he said.
"Now the market is more fragmented, and people are concerned more about nutrition and safety, as the living standards have improved."
Cheng Yi, deputy secretary general of the China Beverage Industry Association, said: "Children's drinks should conform to strict standards and regulations in their production and management.
"Besides, children's drinks should be designed and developed in a way that meets the country's demands of physical growth of kids, and create a healthy and safe environment for children's diets."
Capri Sun opened a children's drinks museum in Beijing last year, which became the first such in the country.
The museum showcases the history and the story of the brand, and displays German imported production lines, teaching children about the juice production process.
The juice maker has been in the South Korea market for more than 18 years, and leads it now, just as it does in the United States, Germany, Africa and the Middle East. In future, it will focus more on the burgeoning emerging markets.
Chen, 44, joined Capri Sun in 2011 and heads the company's operation in China. In 2013, he was instrumental in helping Capri Sun to sign the cooperation agreement with Reignwood.
A native of China, married, and father of one daughter, Chen has held various leadership positions at different consumer companies for over 25 years.
He worked at Nestle, PepsiCo and British American Tobacco Plc, before assuming his current position at Capri Sun.
Chen said he would like to make a lesser-known brand a household name. That would give him a big sense of achievement.
Last year, he led Capri Sun to sign a cooperation agreement with Indonesia, which laid the foundation for its further inroads into the Southeast Asian market.
A frequent traveler, Chen would like to spend time with his family if he ever takes a weekend off from his busy schedule.
Besides, he is a sports fan who likes a workout, playing golf, boxing, and squash. He enjoys a "green life style" in Beijing.
"I live in the north part of Beijing, and I work at Guomao area, which is 25 kilometers away from my home. I would choose to ride a bicycle to work if the weather and air quality are good, and it takes me about one-and-a-half hours," he said.
BIO
Chen Tao
Managing Director of Capri Sun China, Area Sales Director of Asia Pacific
Born in 1971
Education: EMBA degree from Shanghai Jiao Tong University
Married with one daughter
Career:
2011-present: Managing Director of Capri Sun China, Area Sales Director of Asia Pacific
2006-2011: Sales Director, Drinks, PepsiCo China
2005-2006: Brand Manager, Bvlgari and Ferragamo perfume, at ADE China
1998-2005: Manager, North China catering business, British American Tobacco Plc