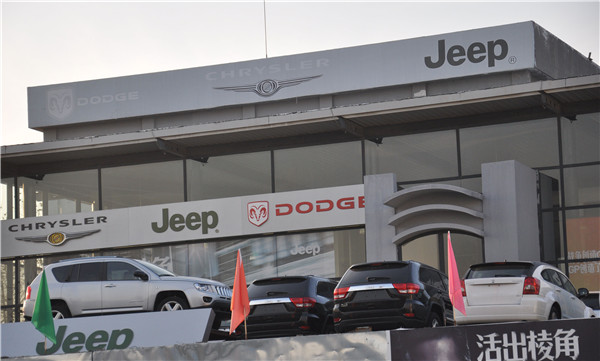 A Jeep and Chrysler dealership in Qingdao, Shandong province. Dealers of Jeep and Chrysler cars are requesting financial compensation from GAC Fiat Chrysler Automobiles to offset their losses in revenue last year. HUANG XIANJIE/CHINA DAILY
Chamber says automaker failed to offer solution after complaints of losses and soaring inventories
Dealerships for imported Jeep and Chrysler cars are seeking more than 1 billion yuan ($152.7 million) in compensation from GAC Fiat Chrysler Automobiles after they claim to have lost 1.2 billion yuan in revenue from failing to sell Chrysler China's high-priced vehicles.
A letter issued by the China Auto Dealers Chamber of Commerce on its website on Dec 21 claims that Chrysler Group China Sales Ltd failed to offer a solution after dealers in China complained of soaring inventories.
GAC Fiat Chrysler Automobiles is the joint venture between Guangzhou Automobile Group Co and Fiat Chrysler. The issue, the dealerships say, centers around the imported vehicles' high wholesale prices that Chrysler China imposed on its dealers. Fiat and Chrysler completed their merger in 2014. The separate Chrysler China is mainly responsible for selling imported Chrysler, Jeep, and Dodge vehicles.
The exorbitant prices turned buyers away and in turn pushed up the dealers' inventory of cars, the chamber claims.
Gu Jiaying, Chrysler China's chief marketing officer, could not be reached by press time.
In the letter, the chamber said Chrysler China's "wrong business policy ... caused dealers to lose more than 1.2 billion yuan ... from the second half of 2014 to the end of 2015. The chamber, on behalf of the dealers, is proposing that the company give 440 million yuan to support showroom operations and 767 million yuan as subsidies for the sales of its cars".
Zhu Kongyuan, the chamber's secretary-general, said Chrysler China is not "admitting its mistakes ... is not compensating and is not actively communicating".
"I hope they can sit down to negotiate, instead of hide," Zhu said. "Dealers and carmakers both expect a win-win situation."
Many major auto dealerships in China sell imported cars from Jeep, Chrysler and Dodge, such as Pang Da Automobile Trade Co, Sinomach Automobile Co and Zhongsheng Goup.
Zhu said Chrysler China informed the chamber that it would communicate individually with dealers, though he said the dealers do not want one-on-one negotiations.
"The dealers are in a weaker position in the industrial chain. The chamber is representing the dealers to negotiate with the carmaker."
A recent survey by the chamber found that dealers selling Chrysler China's vehicles each suffered average losses of about 3.5 million yuan last year. It also said approximately 85 percent of dealers selling the automaker's vehicles have seen declines in revenue for three consecutive years.
Dong Yang, executive vice-president of the China Association of Automobile Manufacturers, said in a news conference on Jan 12 that he hoped current regulations to protect car dealers could be strengthened.
Last year, a number of German automakers agreed to pay billions of yuan as compensation to dealers for forcing them to continue buying their vehicles despite climbing inventories. Jaguar Land Rover, Volvo Cars and Toyota followed suit.
BMW, Mercedes-Benz, Audi and Jaguar Land Rover established communication systems to hear the opinions of dealers. They also set lower sales targets and issued support plans to help dealers overcome their financial difficulties.
"Dealers need a lower sales target this year.... Last year, dealers still accepted unpopular models from automakers when they were really in need of a popular model to sell," Zhu said.
He said one dealership was not given its Jeep sales bonus until it sold a certain quota of Dodge vehicles.
In China, popular Jeep SUVs include the iconic Cherokee and Compass. Cherokee has been locally produced from July 2015 and is offered at a low price. In contrast, the Chrysler 300C and Dodge Journey are less popular to Chinese customers.
"The problem is that it's not violating the current antimonopoly regulations," Zhu said.
Chrysler Group China was fined 31.68 million yuan for its anticompetitve actions in September 2014, a figure that is equivalent to 3 percent of its sales revenue in 2013. Three dealers of Chrysler were fined 2.14 million yuan for colluding to set prices on auto parts in Shanghai.
Dong said he is confident that China's anti-monopoly guidelines "will make a leap forward and it will focus on building a fair and justified environment".
Xu Haidong, deputy secretary-general of the China Association of Automobile Manufacturers, said the government is soliciting opinion for future anti-monopoly guidelines.
"There will be more detailed terms. Carmakers are going to obey the rules as long as they see the specific terms so that they won't be fined," Xu said.
Last year, China's auto market grew at 4.7 percent, a far cry from the projected growth of 7 percent at the end of 2014.
Fiat Chrysler Automobiles said its annual sales dropped 19 percent in China "due to strong competitive pressure from local producers, a transition to local production and an interruption in supply from the Tianjin Port explosion," said the group on Wednesday.
haoyan@chinadaily.com.cn