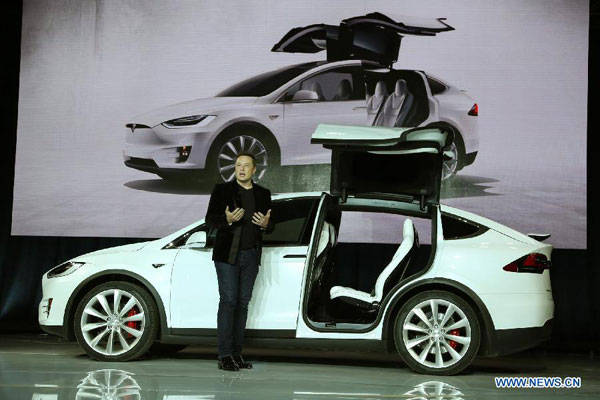 Tesla CEO Elon Musk introduces the falcon wing door on the Model X electric sports-utility vehicles during a presentation in Fremont, California, the United States, on Sept. 29, 2015. [Photo/Xinhua]
Tesla on Tuesday announced that it has connected southern and northern China with charging stations, making it possible to drive its electric car across the country.
Drivers of Tesla Model S can now ride all the way from southern China's economic hub of Shenzhen to the northern industrial city of Harbin, passing through major cities such as Shanghai and Beijing.
The south-north connection was completed after two "super charge stations" in cities of Nanchang and Hefei, respectively, in East China.
Now Tesla has 320 "super chargers" in China, which allow its car to run 300 kilometers after 20 minutes of charging.
It also has more than 1,500 "destination chargers", which are chargers installed in hotels, restaurants and the company's other local partners.
China encourages the use of electric cars to combat air pollution.
In cities like Beijing and Shanghai, electric cars are subsidized and not subject to restrictive policies like license plate auctions.