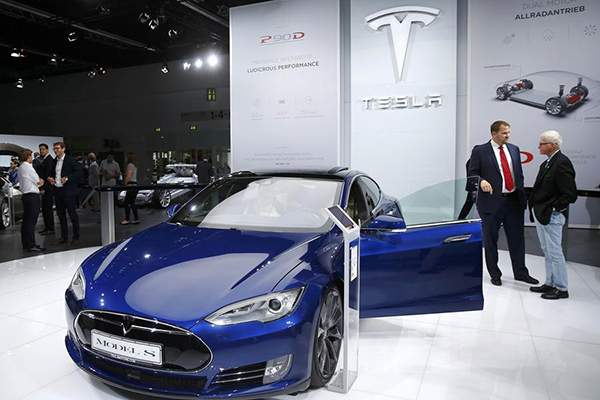 The Tesla Model S is presented at the Frankfurt Motor Show (IAA) in Frankfurt, Germany Sept 15, 2015. [Photo/Agencies]
BEIJING - "In the long term, we will probably see equal or higher sales in China than in the United States. That may take five or six years," Elon Musk, CEO of electric automobile maker Tesla Motors, told Xinhua on Friday.
Sales in China in the first three quarters of 2015 reached 3,025 cars, with 791 sold in Q1, 882 in Q2 and 1,345 in Q3, respectively, Musk said at a press conference to unveil Tesla's new Autopilot system in Beijing.
Musk said the figures are good on a percentage growth basis, and he is very optimistic about Tesla's future in China. He said he wants to emphasize that Tesla is still a small company. "We get the press of an elephant, but are the size of a mouse," he said.
The company is in talks with officials at the national and provincial levels about potential joint ventures in China, according to Musk.
In a previous interview with Xinhua, Musk said Tesla plans to localize production and engineering in China in three years. "That timetable is still approximately correct. It's my best guess," he said on Friday when asked if there had been any change of plans.
Tesla has been increasing its retail outlets and supercharging networks in China, having already installed 84 superchargers and 1,500 destination chargers after sales in the country reportedly fell below expectations last year.
Musk said Tesla is now in a "pretty good place," even as traditional car makers such as BMW and Audi unveiled their own electric vehicle concepts in China.
"We are trying to put localized production in China. In the years to come, you'll see some fairly significant partnership announcements," Musk added.
China's automobile sales rebounded in September mainly due to growth in passenger car and new energy vehicle sales.
Official data showed that electric and hybrid electric cars outperformed their peers in September, registering 210- and 220-percent year-on-year growth in output and sales, respectively.
Industry analysts said his choice of Beijing as the launch site for Tesla's Autopilot indicates Tesla's determination to win over China, the world's biggest auto market.
However, Musk did not shy away from admitting that Tesla had "made some mistakes" on its initial entry into China.
The lesson learned is that no matter how anxious customers are to get the product, it shouldn't be launched unless everything is ready, he said.