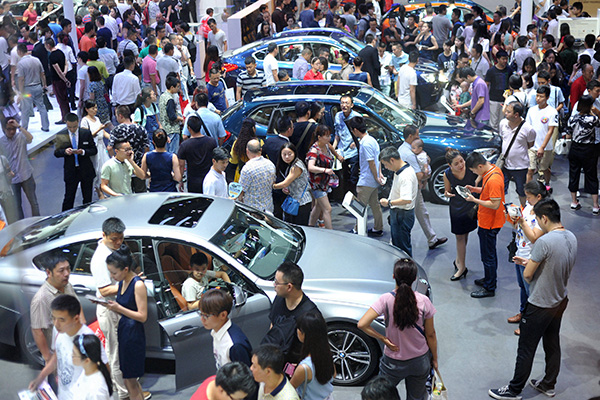 The 2015 Chengdu Motor show opens in the capital city of Sichuan province on Sept 5. With the launch of 71 new vehicles by 106 companies, it is the largest auto show in western China. [Photo/CFP]
BEIJING - China's vehicle-purchase tax cut for passenger vehicles can benefit both buyers and automakers, said rating agency Moody's in its latest Credit Outlook.
The government halved the vehicle-purchase tax to 5 percent for passenger vehicles with engines that are 1.6 liters or smaller. The tax cut will be in effect from October 1, 2015 to December 31, 2016.
The tax cut followed weak year-to-date automotive sales in China, with sales in the first eight months flat from a year earlier, versus 6.8 percent growth in 2014, according to the China Association of Automobile Manufacturers.
Passenger vehicles accounted for 85 percent of total sales, and 68 percent were equipped with engines that were 1.6 liters or smaller.
Buyers pay the vehicle-purchase tax, which is applied to vehicle prices before the 17 percent value-added tax. The tax cut reduces the purchase price for qualifying vehicles by lowering one-off tax expenses.
Moody's expects the tax cut to be attractive to price-sensitive buyers and said that the limited duration of the tax cut will entice buyers to move up their purchases.
The government implemented a similar tax cut, lowering it from 10 to 5 percent, between January 20, 2009 and December 31, 2009. It later extended the tax-relief period to the end of 2010, but raised the rate to 7.5 percent.
The 2009 tax cut stimulated auto sales growth to 45.5 percent year on year in 2009 and 32.5 percent year on year in 2010, up from 6.6-percent year-on-year growth in 2008, according to the China Association of Automobile Manufacturers.
Moody's expects auto sales growth to also accelerate this time, albeit to a lesser degree, given China's higher auto penetration rate now versus in 2009 and 2010.
Automakers with higher exposure to qualifying vehicles as a percentage of total sales and a focus on price-sensitive consumers will benefit most. Of the two Chinese automakers that Moody's rates, Geely Automobile Holdings Limited will likely benefit more than Beijing Automotive Group Co Ltd, as Geely's key models have smaller engines and lower sales prices.