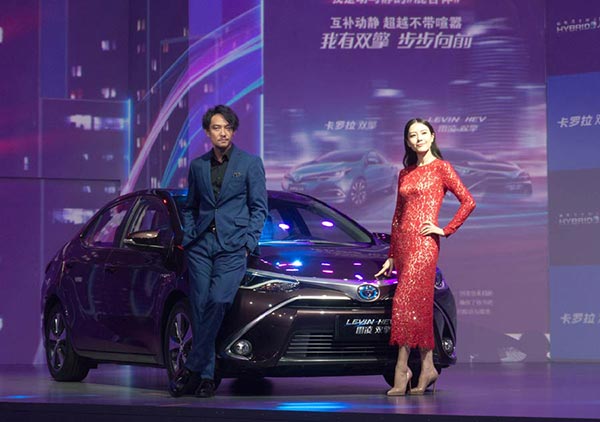 Chinese actor Zhang Zhen and actress Gao Yuanyuan pose for a photo in Shanghai, April 19, 2015. [Hao Yan/chinadaily.com.cn]
Foreign automakers continue to plough money into factories in China, the world's largest car market, even as the biggest economic slowdown in a quarter of a century crimps sales growth.
Market leaders Volkswagen AG and General Motors show no sign of letting up on their planned investments, while Toyota Motor and Ford Motor are also pursuing new China expansion plans.
That's in spite of the economic slowdown further depressing the car market in January-March, when sales grew only 3.9 percent, compared to 9.2 percent a year ago and way below the 7 percent growth that the China Association of Automobile Manufacturers (CAAM) predicts for this year.
Foreign automakers, many of which are expected to unveil new products for China at this week's Shanghai autoshow, including Ford's redesigned Taurus sedan, aren't fretting over the first quarter slowdown. But if the fallout from the broader economic slowdown bleeds into the rest of the year, global automakers may need to reconsider their China expansion plans, said James Chao, Asia chief of IHS Automotive.
A handful of foreign automakers are still outperforming the market, with Ford, for example, posting 9 percent sales growth in the first quarter.
"It's still a tale of two worlds, with domestic manufacturers probably hovering around 60 percent capacity and the international joint ventures at 80-85 percent. It's a big difference," Chao said.
Anthony Lau, Shanghai-based research director for consultancy TNS Sinotrust, said even strong single-digit growth in car sales in China is much better than in markets elsewhere.
China accounted for more than half the total industry spending on new or expanded capacity last year, with plant investments worth $12.7 billion, according to an annual Canadian study of automakers' outlays.  
Adding capacity
Foreign automakers are likely to hoover up more idle capacity from smaller domestic firms, said Chao at IHS, as Ford did in acquiring a factory from Harbin Hafei Automobile that will add 200,000 vehicle per year capacity when upgrades are finished in 2016.
That follows Ford's launch last month of a new factory in eastern China's Hangzhou, with annual capacity for 250,000 vehicles.
Even Toyota, whose first-quarter sales slipped 0.1 percent, is ending a years-long expansion freeze, spending $440 million to add a new facility and a third line at a factory in Guangzhou, which could start production in 2017 with capacity to make about 100,000 cars a year.
Volkswagen is targeting China capacity of 5 million vehicles a year by 2019, up from 3.5 million in 2014, as part of a 22 billion euro ($23.3 billion) investment push, a company spokeswoman said, and GM has its sights on hitting that 5 million number a year earlier.
By the time these expansions come on-line, the years of breakneck double-digit growth will likely be long gone: economists predict 7 percent GDP growth this year and a further notching down to 6.8 percent in 2016.