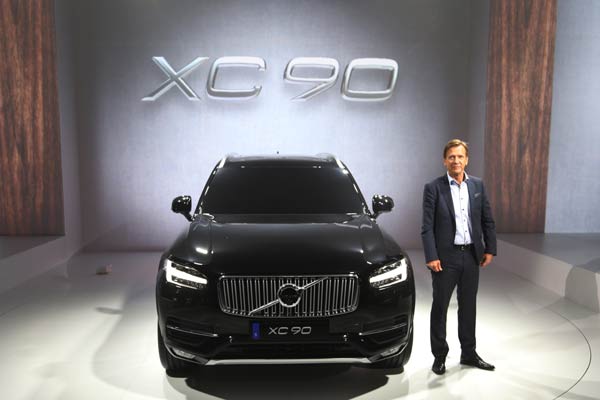 Volvo Cars Chief Executive Officer Hakan Samuelsson poses next to a Volvo XC90. [Photo by Tuo Yannan/chinadaily.com.cn]
Volvo Car Group unveiled its first model on Tuesday since being acquired by Chinese company Zhejiang Geely Holding Group Co four years ago.
The XC90 is the company's crossover flagship and its launch marks a new era for the Swedish luxury car brand.
"We are not just launching a car, but re-launching our brand. This day marks a new era for our company. The XC90 paves the way for a portfolio of exciting new cars to come in the following years," said Volvo Cars Chief Executive Officer Hakan Samuelsson.
The company is ambitious about the new model's sales performance in the Chinese market.
"Our target is to sell 50,000 new XC90 in China next year, and I hope in the future we can sell 80,000 annually," said Samuelsson.
The XC90 will be available to Chinese customers in March 2015, the same time as other countries.
Samuelsson told China Daily that in order to cater for the Chinese market, Volvo has a team of 150 people in China researching Chinese customer behavior and cooperating with Geely.
He sees Volvo Cars being back on the right track in China after a poor sales performance two years ago.
In 2010, the Swedish company sold 373,525 cars globally, with the Chinese market accounting for 30,522.
Geely's President Li Shufu appointed Samuelsson to be the CEO of Volvo after the merger, since when the Chinese market has occupied an increasingly important position for the company.
China accounted for 6.8 percent of Volvo's global market sales in 2010 but it had increased to 14.3 percent in 2013, with almost double the number of sales.
"The new XC90's design has considered many preferences of Chinese customers, although it has not been designed especially for China," Samuelsson said.
Volvo does plan to launch a customized version for the Chinese market, featuring larger and more luxurious rear seats, given that is where Chinese executives always sit.
Chinese customers will also see a new logo that demonstrates the company's brand revival plan, which also includes selling cars online for the first time.
Volvo will allocate 500 cars from the limited First Edition of the new XC90 to the China market. The 1,927 individually numbered vehicles mark the year Volvo was founded and will only be sold online.
According to Volvo, the XC90 is key to its goal of doubling sales to 800,000 vehicles by 2020.