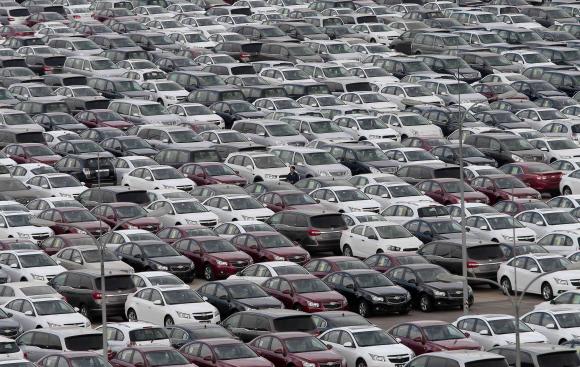 An employee yawns as he walks among General Motors' new Chinese-made cars at a parking lot in Shenyang, Liaoning province April 21, 2014.
General Motors Co is responding to surging Chinese demand for large family vehicles, a trend likely to deepen as Beijing eases its one-child policy, by redesigning its distribution network to speed up sales of its Baojun family range.
Sales in China of family-sized multipurpose vehicles or MPVs, surged 55 percent during the first half, far outpacing the 8.4 percent growth in the overall auto market.
The change in strategy is also a response to increased competition in the country's rural markets and lower-tier cities where newly emerging middle-class consumers are clamoring to buy low-cost vehicles.
"In general, as incomes rise and as the one-child policy has been relaxed, the trend is going to be toward more passenger-like characteristics, more refinement, more multi-purpose and more family-oriented functional vehicles and that's the direction we want to go," said Ray Bierzynski, the outgoing vice-president of GM's venture with SAIC Motor Corp Ltd and Wuling Automobile Co.
In an effort to establish a dominant presence, GM and SAIC, China's biggest automaker, have begun combining sales channels of its two largely-China-only brands.
The brands include the 30-year-old "workhorse" microvan brand "Wuling" and a newer passenger car brand called "Baojun". GM hopes to create a limited number of what it calls "dual-brand stores" where consumers could buy vehicles from both brands.
GM's move is a result of the competition it faces from similar brands like Nissan Motor Co's "Venucia", which sells for as low as 42,800 yuan ($6,900), and those from Volkswagen AG, Toyota Motor Corp and Honda Motor Co.
The change is also in response to a shift in consumer preferences that now favor more family-oriented multi-purpose vehicles instead of bare-bones micro cargo vans priced as low as 30,000 yuan ($4,800).
Wuling, the main brand operated by SAIC-GM-Wuling, one of GM's key joint ventures in China, has been a huge success story since GM invested in the company in 2002.
It sold 1.48 million vehicles last year, up 11 percent from 2012 and accounted for almost half of the overall volume GM generates in China each year with its joint-venture partners. GM and its partners sold 3.2 million vehicles in 2013.