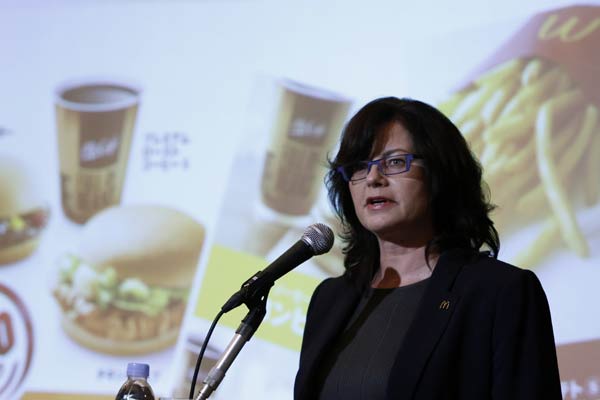 McDonald's Holdings Co (Japan) President and Chief Executive Officer Sarah Casanova speaks during a news conference in Tokyo on Tuesday. McDonald's Holdings Co (Japan) said the same day that it is considering procuring chicken from Brazil, after a major meat supplier in China was shut down by regulators for food safety breaches.YUYA SHINO/REUTERS
Unit of fast-food giant battling meat scandal, competition
McDonald's Holdings Co (Japan) withdrew its earnings guidance for the year on Tuesday and said it was working on a contingency plan after a major meat supplier in China was shut down by regulators for food safety breaches.
It also said it would consider seeking damages from the supplier.
The Japanese unit of the world's biggest hamburger chain immediately switched to alternative chicken supplies from China and Thailand after the scandal broke last week.
McDonald's Japan had forecast an operating profit of 11.7 billion yen ($115 million) for the full year to Dec 31, up 1.5 percent from 2013, and net profit of 6 billion yen, up 17 percent.
For the six months to June 30, it reported a 50 percent plunge in operating profit to 3.5 billion yen and a 59 percent drop in net profit to 1.85 billion yen.
It also said on Tuesday it was considering sourcing meat from Brazil. Chief Executive Sarah Casanova said that while its Thai suppliers had enough capacity to handle Japanese demand, the company needed a contingency plan.
Casanova said McDonald's Japan would also begin providing more information on the country of origin and processing for its ingredients and step up inspections of suppliers.
The Shanghai Husi meat scandal flared up just as McDonald's Japan was scrambling to reverse two straight years of falling sales, including adding more chicken items to its menu.
The company said previously that the sourcing switch could cause many of its 3,100-plus stores to run out of chicken products.
In withdrawing its full-year profit guidance, McDonald's Japan said it was unclear how much it would suffer.
"We are not able today to assess the extent of the impact on our business," McDonald's Holdings, which is 49.9 percent owned by McDonald's Corp, said in a statement.
An executive said sales were down 15 percent to 20 percent on a daily basis compared with original projections.
Last week, McDonald's Corp reported a bigger than expected fall in quarterly profit as established restaurants in the United States and Europe also suffered sales declines.
McDonald's Japan has also been under attack from the country's ubiquitous convenience stores, which have attracted consumers with cheap, freshly brewed coffee, seating areas and other novel products and services.