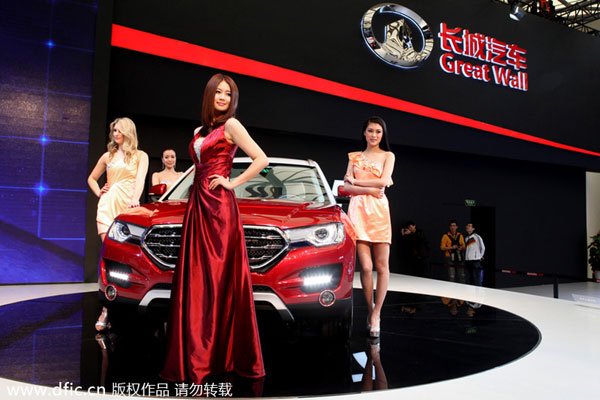 Models pose with Haval H7 SUV of Great Wall Motors during an automobile exhibition in Shanghai, April 22, 2013. [Photo/IC]
Great Wall Motor Ltd saw its market value shrink by 70 billion yuan ($11.27 billion) as its stock price dived 50 percent from its peak in nine months, the Economic Information Daily reported Tuesday.
As China's largest truck and SUV maker, Great Wall's stock price reached 52.85 yuan on the Shanghai Stock Exchange on October 11, 2013, with its market value topping 150 billion yuan. However, its share price closed at 26.40 yuan on July 11 last week.
Analysts attribute the plunge to the company's lame performance, as well as the delayed launch of the Haval H8, a luxury SUV model.
The company announced on July 4 that sales in the first half of this year fell to 347,000 units, compared with 368,000 in the same period in 2013.
The shortfall was due to flagging sedan sales, which fell 49.9 percent year-on-year to 56,996 units.
The automaker sold 754,000 vehicles in 2013 and aimed for 890,000 this year.
An industry insider said it would be a disaster if the company keeps developing SUVs while ignoring sedans as they still account for a large proportion of the auto market, with SUVs having only a minor share.
Though inferior in the sedan segment, Great Wall Motor is well established in the SUV market. Sales of SUVs in the first half of this year increased 13 percent year-on-year, of which its best-selling Haval H6 rose 76 percent year-on-year, said Dong Yang, vice president of China Association of Automobile Manufactures.
Dong admitted that domestic brands still need to invest heavily in research and development and keep innovating.