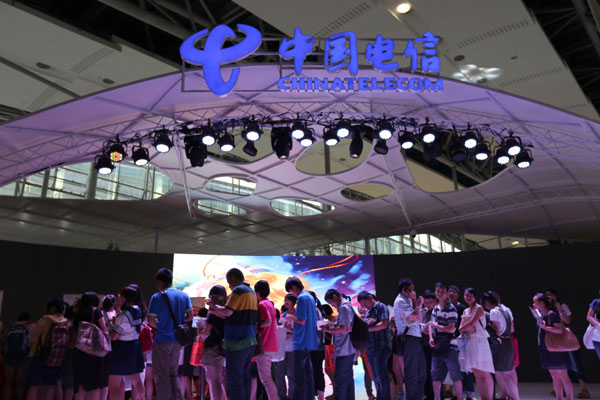 China Telecom promotes its 4G services in Guangzhou, Guangdong province. The company is seeking private investors for emerging telecommunications services such as online payments and social networking. Liu Jiao / For China Daily
China Telecom Corp started to sell the first batch fourth-generation subscriber identity module cards in 16 Chinese cities on Tuesday.
The move marked smaller carriers' official challenge against China Mobile Ltd, the No 1 carrier by subscriber numbers, in the 4G market.
The first round of sales were mainly made on JD.com, a top e-commerce site in China.
China Telecom plans to sell at least 200,000 4G accounts on JD.com, according to Beijing Business Today newspaper.
Industry regulators allowed a test run of LTE-FDD (long-term evolution frequency-division duplexing) 4G standard about two weeks ago. China Telecom and China United Network Communications Group Co Ltd have long supported the LTE-FDD standard while China Mobile uses TD-LTE technology.
China Telecom had ordered 62 million contract 3G and 4G smartphones from vendors such as Samsung Electronics Co Ltd, Huawei Technologies Co Ltd, ZTE Corp and Lenovo Group Ltd.