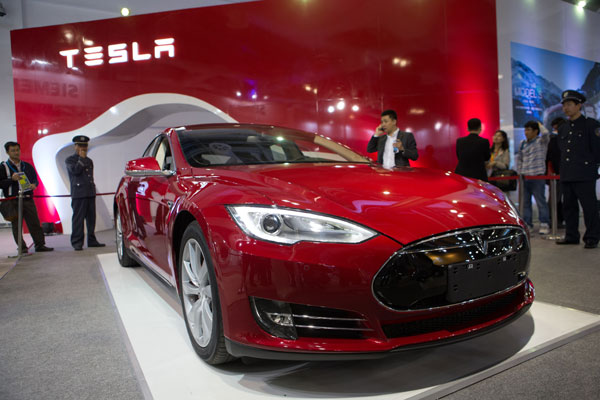 Tesla delivered six model S sedans and unveiled its charging station in Shanghai on Wednesday. Gao Erqiang / China Daily
The United States-based electric vehicle producer Tesla Motors Inc has become the most dazzling superstar in China this week, not only by taking the fancy of the public but also by attracting willing cooperation from local industry leaders.
Chinese customers will be able to make a deposit for a Tesla car through
Alipay
, the electronic payment service affiliated with
Alibaba Group
Holding Ltd, according to both parties' websites.
A representative of Alibaba Group said no other information could be disclosed at this stage, but analysts said cooperation may go much further in the future as regards e-commerce.
Besides Alibaba, there is a long list of big Chinese names that have or might become partners to Tesla. JA Solar Holdings Co Ltd, one of the nation's biggest solar panel manufacturers, announced on Monday it will build solar charging stations with Tesla in Shanghai's Pudong district.
China United Network Communications Group Co Ltd said on Tuesday that it will offer comprehensive telecommunication solutions for Tesla cars in China. And China Petroleum & Chemical Corp is reportedly holding discussions with Tesla about cooperation in charging venues.
Tesla will soon set up a sales settlement center in Jinqiao, Pudong area, and give Pudong priority if it decides to build a manufacturing plant in China, according to a strategic cooperation agreement signed by the company and the Pudong district government on Wednesday, National Business Daily said.
Tesla delivered six Model S sedans and unveiled its charging station in Shanghai on Wednesday.
Its exhibit at the China (Shanghai) International Technology Fair attracted more potential customers on Thursday.
"It's stylish, for sure. My major concern is the range, and if they can successfully build a charging stand in my garage," a woman surnamed Shen said.