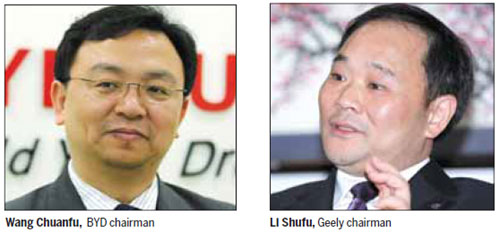 With given names ending in the same Chinese character fu, which means good fortune, Li Shufu and Wang Chuanfu have another thing in common - they are the bosses of two leading domestic automakers.
But on the surface, good fortune has been better to one than the other. Wang, the chairman of BYD, had the domestic industry's biggest paycheck last year - more than 2.7 million yuan - while Zhejiang Geely Holding Corp Chairman Li had the lowest, just 327,000 yuan, according to recently released annual reports from the country's major listed automakers.
But a deeper look at company statistics show Li is the majority owner in Geely with control of 50.3 percent of its stock in 2011, when Forbes magazine listed him as the 37th-richest person in China. His net worth was then reported to total $2.2 billion.
But Li's low official salary last year came as Geely registered considerable growth in both sales and profits.
The non-State owned automaker delivered 483,000 vehicles in 2012, an increase of 15 percent from the year previous, helping net profits rise to 2.04 billion yuan, up 32 percent from 2011.
Other senior executives at the company are well paid. Geely CEO Gui Shengyue earned 5.78 million yuan last year, while Executive Board Member Hong Shaolun also took home more than 5 million yuan.
In contrast to Geely's profitable year, BYD's Wang remained the highest paid boss even as the Shenzhen company's revenues declined drastically.
And he was not the highest paid at BYD. Vice-President Mao Dehe earned more than 3.46 million yuan last year.
Wei Jianjun, chairman of Great Wall Motors - another of the top three listed automakers - was paid more than 2.47 million yuan last year, a 41.46 percent rise from 2011. Company CEO Wang Fengying received some 2.16 million yuan, an increase of 50.5 percent.
Sharply higher salaries for Great Wall executives came as the company's net profits grew 66.14 percent to 5.69 billion yuan and revenues rose 43.4 percent to 43.16 billion yuan in 2012.
In 2010, the profits at Geely, Great Wall and BYD were a respective 1.37 billion, 2.69 billion yuan and 2.53 billion yuan.
The ratios were similar for Geely and Great Wall in 2011, but BYD profits slipped to 1.38 billion yuan.
And in 2012, profits for Great Wall hit 5.61 billion yuan, about 59 times the figure for BYD. Great Wall sold 620,000 vehicles in the year, while BYD delivered 420,000.
But even the highest-paid domestic auto executives pale in comparison to the salaries of their multinational peers.
According a recent report in China Business News, the lowest annual pay for the heads of global automotive companies is more than $4 million.
The report said Alan Mulally, president and CEO of Ford, was the highest paid last year with a total income of just under $21 million.