Chinese-made speaker dares Amazon, Google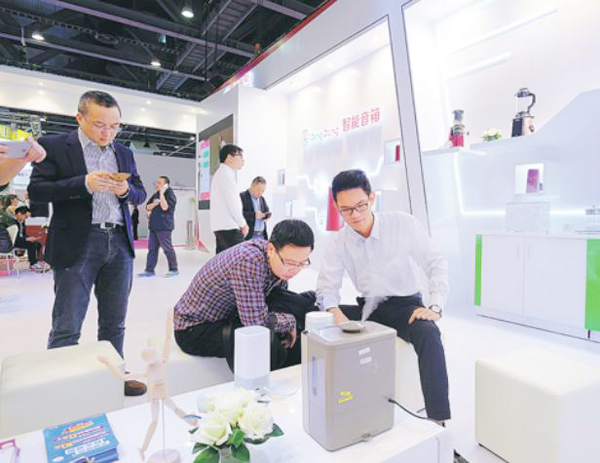 A humidifier connected to, and controlled by, Dingdong smart speaker at a fair in Guangzhou. [Photo provided to China Daily]
Dingdong A1, a made-in-China voice-activated smart home speaker brand, is squaring up to the Amazon Echo and the Google Home.
Similar to Echo and Home, the conical cloud-connected speaker can answer questions, manage schedules, provide directions, play music and voice-control other household smart devices. Dingdong A1 is the flagship product of Linglong Co, a $25 million joint venture between China's e-commerce giant JD.com and Chinese voice technology company iFlytek.
According to market research firm Gartner Inc, the global market for speakers with virtual assistants is expected to hit $2 billion in sales by 2020, almost a 500 percent rise over 2015.
No wonder, LingLong, eager to grab market share, has loaded Dingdong with a host of features. Priced 798 yuan ($116), its unique selling point is it can speak Chinese-both Echo and Google, being English-based, cannot.
When addressed as "Dingdong, Dingdong", Linglong's speaker can hear and respond to voice commands. Using JD's open-source application Jingdong Weilian, it allows users to control all connected smart devices made by manufacturers that are part of the company's ecosystem.
Wei Qiang, general manager of Linglong, said market potential for smart speakers in China is huge. "We think voice is the most natural way to connect. With improved technologies, the speaker will be suitable to perform various functions."
The Beijing-based company claimed that during last year's Nov 11 online shopping festival and the following two weeks, it sold around 10,700 speakers, accounting for nearly 80 percent of the total sales volume of smart speakers on the JD platform.
According to Wei, the smart speaker will herald numerous life-assisting services, and will emerge as a key part of a smart home.
"We need to nurture users and grow the market in China now," he said. "I believe 10 million gadgets will be sold in China in the future.
"We will continue to work on the smart speakers with other leading brands worldwide such as Harman International Industries Inc. And we are also working with internet service providers to build an open voice-based service platform."
Linglong, which was established in 2015, has unveiled several versions of smart speakers to meet people's various needs in different scenarios, including the portable gadget for young people's outdoor needs and one equipped with English-learning software.
It is also expected to add new functions for the elderly, such as setting alarms as a reminder for taking pills at the prescribed time.
Jin Di, research manager of IDC China, said the key is to build a complete ecosystem. "The voice technology is not the most important thing. Instead, the company should work on the ecosystem and try to offer more types of services, like online-to-offline services."