Profits of China brokerages shrink in 2016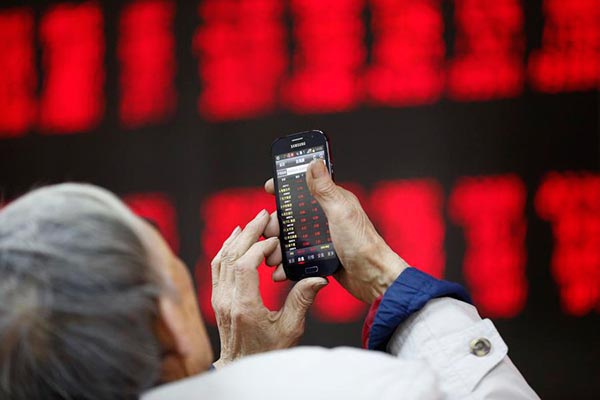 An investor checks stock information on his mobile phone in front of an electronic board showing stock information at a brokerage house in Beijing, February 16, 2016.[Photo/Agencies]
BEIJING - Fifteen Chinese listed brokerages have estimated profit declines for the last year as thin stock trading dragged down their incomes in commission fees.
Those brokerages, accounting for more than half of the country's publicly traded securities firms, reported combined net profits of 53.66 billion yuan ($7.8 billion) in their preliminary earnings estimates for 2016, only half of the figure seen in 2015, according to RoyalFlush Information, a financial information service provider.
Their total revenues declined nearly 40 percent to 164.87 billion yuan, mainly weighed on by substantial drops in commission fees.
Chinese shares were still in the middle of a sluggish recovery from sharp plunges, prompting investors to be more cautious in making transactions, while booming property sales also drained money from the stock market.
The benchmark Shanghai Composite Index stood at 3,103.64 points at the end of 2016, down 12.31 percent year on year.
Changjiang Securities Co saw the lowest profit decline, while CITIC Securities Co appeared to be the most profitable brokerage.
Despite lackluster brokerage charges, securities companies saw expanding asset management and investment banking business last year, which grew 8 percent and 29 percent in terms of net income, respectively, data from the Securities Association of China showed.