Mobike pumped up with investment from Temasek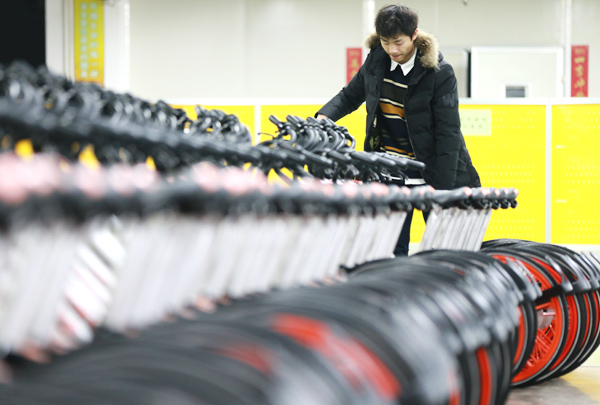 A worker at a Mobike factory in Hengyang, Hunan province. PENG BIN /FOR CHINA DAILY
Bike-sharing firm hopes funding can help it expand in China and overseas
Chinese bike-sharing startup Mobike announced on Monday it has received a strategic investment injection from Singaporean company Temasek Holdings, as it is locked in a fierce battle with Ofo for dominance in China.
With the deal the three-year-old company has raised more than $300 million since the start of 2017. Mobike did not disclose the specific amount.
Davis Wang, co-founder and CEO of Mobike, said within just 10 months, the Beijing-based company has accumulated more than 10 million users across 21 cities. In the same time frame, it has provided more than 200 million bike-sharing rides.
"With the help of new investors, we will expand presence in China and the overseas markets," he added.
Hillhouse Capital, a leading investment powerhouse, also increased its bet in the company after it led an investment into Mobike in late 2016.
Zhang Lei, founder and chief executive of Hillhouse Capital, said in a statement that the Mobike team has a clear vision for the future of urban transport.
"We look forward to leveraging our global network and resources to help Mobike bring its urban transportation solution to cities around the world."
The new investment came shortly after Mobike signed an exclusive strategic partnership with Foxconn Technology Group in January, which would help double its annual bicycle production capacity to more than 10 million units.
Mobike is competing with Ofo for supremacy in the country's booming bike-sharing sector, which is now one of the most popular investment destinations.
In January, Mobike raised $215 million from investors including the social networking giant Tencent Holdings Ltd, while Ofo clinched an investment of $130 million in October 2016.
In the first week of 2017, Mobike's mobile app had 5.85 million weekly active users. In comparison, the number for Ofo is 1.4 million, data from the research firm iResearch Consulting Group show.
The cash-burning battle between ride-sharing platforms is continuing as they are attracting new users with subsidies, according to Zhang Xu, a Beijing-based transport analyst for internet consultancy Analysys.
"The two sides are all armed with enough cash now. The competition will depend on which can offer better services with lower costs," he said.
"Local governments are preparing to unveil regulation policies. Players need to pay attention to that," he added.