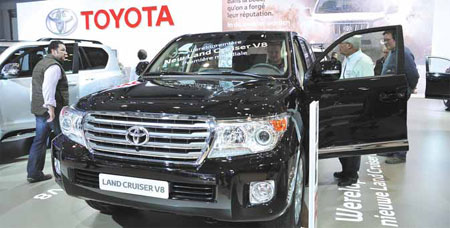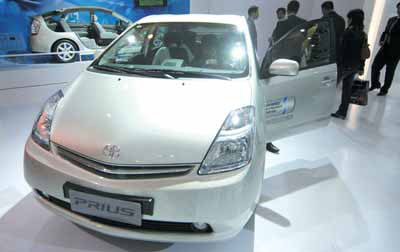 The large-displacement Land Cruiser and Prius hybrid are among Toyota's portfolio, the type of product mix that could become more prevalent following implementation of a new regulation that evaluates the fuel efficiency of each carmaker's entire fleet. [Ye Pingfan / Xinhua and Wu Changqing / for China Daily]
Lower-tech local brands could feel the squeeze
Stringent new fuel efficiency regulations for passenger vehicles released last month by the Chinese government could put more pressure on indigenous carmakers, according to industry observers.
The new regulation will adopt a similar approach to those used in the US and Europe, limiting average fuel consumption for a carmaker's entire fleet. Current measurements cover the fuel economy of each model.
Released by the Ministry of Industry and Information Technology and four other departments, the new regulation will take effect in May.
The goal is to reduce average passenger vehicle fuel consumption in China to 6.9 liters per 100 km by 2015.
Taking product planning and model cycles into consideration, the standard will be flexible in the transitional period to 2014, the MIIT said in an explanatory note .
It said that the criteria for last year is allowed to be 9 percent more than the 2015 target, which is about 7.5 liters every 100 km. For this year, the limit is 6 percent more than the 2015 goal, and in 2014, 3 percent above the final target.
The ministry said that by June each year it will release a report on the average fleet fuel efficiency for the previous year. The first such report will come out this June.
But what penalties will be imposed have yet to be defined. Without specifying a timetable, the ministry said that reward and penalty policies will be formulated at a later date.
According to statistics from China Passenger Car Association, fuel consumption in locally produced passenger cars already reached the target of 6.9 liters per 100 km last year. Yet individual carmakers vary widely.
Industry observers said the new policy will put added pressure on non-compliant domestic carmakers because they generally lag behind foreign counterparts in fuel-efficient technologies.