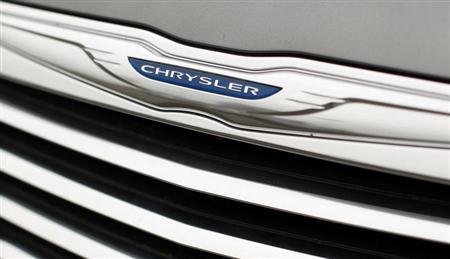 A Chrysler badge is pictured on a new car at a dealership in Vienna, Virginia April 26, 2012. [Photo / Agencies]  
Auto sales rose nearly 4 percent in February, delivering a better-than-expected performance as strength in the housing market tempered worries over the wave of federal spending cuts due to begin on Friday.
The annual auto sales pace for February was 15.38 million vehicles, according to Autodata, better than the 15.1 million rate expected by economists polled by Thomson Reuters.
This marked the fourth month in a row that the sales pace held above the 15 million-vehicle mark, a sign that rising home values are helping American consumers feel more confident about buying a new vehicle.
"The escalator is heading up and not down," said Kurt McNeil, head of US sales operations for General Motors Co, which posted a better-than-expected sales gain.
This boost in housing comes at a time when the average vehicle on the road is at an all-time high of more than 11 years old and pushing past the point of repair.
Increased housing construction helped boost sales of pickup trucks during the month. GM's truck sales to small business owners were up 40 percent, giving a "strong vote of confidence in the underlying economy," McNeil said.
GM, the largest US automaker, posted a nearly 30 percent jump in sales of its Chevrolet Silverado trucks, while Ford Motor Co's F-Series gained 15.3 percent.
Improvements in the housing market and pent-up demand for new vehicles offset the risks posed to the broader economy by the across-the-board "sequestration" US budget cuts, Ford and GM executives said during conference calls on Friday.
US consumers are showing "nerves of steel" in the face of the budget cuts, Ford Chief Economist Ellen Hughes-Cromwick said, adding that the cuts would lop off about a half a percentage point from GDP growth if fully realized.
Honda, Nissan fall
Auto sales each month are an early indicator of economic health. The auto industry is in the middle of its fourth year of recovery from an economic downturn that pushed GM and its smaller US rival, Chrysler Group LLC, into bankruptcy in 2009.
GM's US sales rose 7 percent in February to 224,314 cars and trucks, while Ford, the No 2 US automaker, saw sales rise 9 percent to a weaker-than-expected 195,822 vehicles.
US auto sales in 2012 rose more than 13 percent to 14.5 million cars and trucks. Sales rose 14 percent in January to an annual sales rate of 15.3 million.
Like January, February is typically a slow sales month for the industry, so a small change in sales can have a large impact on the annual rate for the month.
Sales at Chrysler, majority-owned by Italy's Fiat SpA, rose 4 percent to 139,015 vehicles, slightly less than some analysts expected.
Japanese automakers Toyota Motor Corp, Honda Motor Co Ltd and Nissan Motor Co Ltd each posted weaker-than-expected sales last month. Toyota's sales rose 4.3 percent, while Honda fell 2 percent and Nissan dropped 6.6 percent.
GM shares closed 6 cents higher at $27.21 and Ford shares were unchanged at $12.61 on Friday.