Oral-B focuses sales on China's rising middle class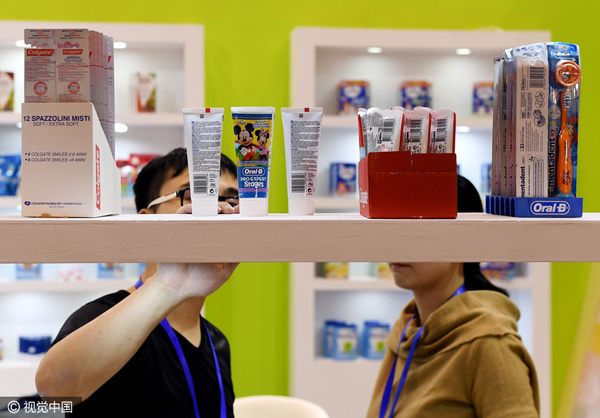 Products of Oral-B on display at an expo in Zhengzhou, Central China's Henan province, Oct 13, 2016. [Photo/VCG]
American oral hygiene brand Oral-B, a sub-brand of P&G, said it is bullish on the growth potential of the electric toothbrush market in China, as a rising middle class and an increased awareness of oral care are set to drive the sales of various high-quality products.
The company recently launched a new intelligent electric toothbrush. The product set is priced at 2,099 yuan ($302), which buyers can tailor their names, constellations and catch lines on the toothbrush. One thousand sets were sold within three hours after it launched on Alibaba Group Holding's Tmall.com, one of China's largest e-commerce shopping websites.
Nancy Liu, general manager of oral and healthcare public relations communications of P&G Greater China, said in the past three years, Oral-B's sales of its electric toothbrush products surged two to threefold every year.
"The emerging middle-class consumers are increasingly paying attention to the quality of life, and they are more willing to spend money on those health-related products," she said.
"We sell most of our products through e-commerce websites. This year, we keep a double-digit sales increase year-on-year, and I expect a similar growth rate in the next few years, as the market penetration rate of electric toothbrush in China is still very low."
Overall, two percent of Chinese residents use electric toothbrushes, and the proportion is 10 percent among those families with higher incomes. In the United States and Europe, the penetration rate is around 35 to 40 percent, according to the company.
The iBrush toothbrush uses Bluetooth technology, and provides an individual oral care database. It enables the toothbrush to connect with mobile phones through WiFi, so consumers can download an "Oral-B" APP on their phones and customize their oral healthcare management.
"The app will help analyze personal data and provide advice on brushing behavior and oral health, and electric brush can better help people to develop brushing habits and keep the gums and teeth clean."
In the next 15 years, the market scale of China's oral care market, including oral disease prevention, nursing and treatment, is expected to reach 500 billion yuan, according to a report released by Chinese toothpaste brand Saky.