Income reform can boost middle-class number to 400 million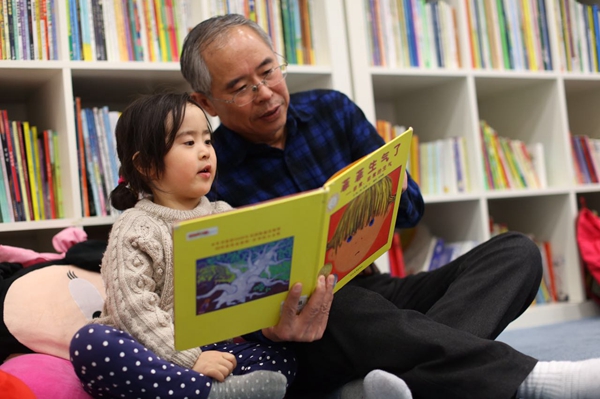 A grandfather reads stories to his granddaughter at a library in Beijing. The middle class read more than the national average by a large margin. [Photo by Wang Jing/Asianewsphoto]
China could see its middle income population jump to 400 million by 2020, if the income distribution reform is carried out in a comprehensive manner, according to a report by China Economic Weekly.
The middle class in the country now numbers around 240 million, or 18 percent of the total population, based on the research of Su Hainan, the deputy president of the China Association for Labor Studies. However, this figure is far lower than that in the middle-income nations of its kind and it's a big disadvantage for the stability and security of the society. Therefore, Su suggests comprehensive and sound reform should be undertaken to enlarge the middle class.
Su defines the Chinese middle class by calculating the median income. To be classified as middle class in China a person should have an income that ranges from above the national average income to 2.5 times of that. In 2013, the middle-income group included individuals whose yearly income was between 60,000 and 150,000 yuan ($8,750 to $21,800), or had a family income of 85,000 to 225,000 yuan a year. They must also have some bank savings and an above-average home. In larger cities such as Beijing, Shanghai, Guangzhou and Shenzhen, a person can be called middle class if they have roughly two times income than the national average.
It's a big challenge for China to move from a "pyramid-like" to a stable "olive-shaped" social structure, Su added. However, China still has time to avoid it by increasing the proportion of middle-income people and deepening the comprehensive reform of income distribution and other reforms. By doing so, China will have 400 million middle-income population by 2020 and the ratio of this group could reach 28 percent of the total population.