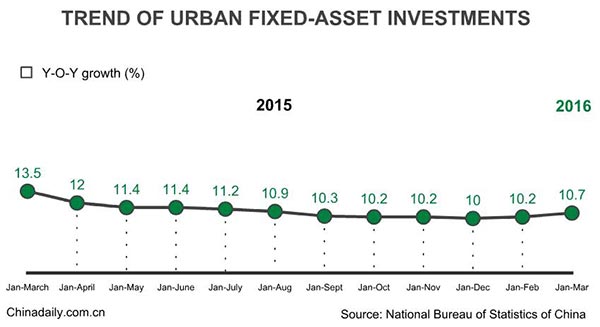 BEIJING - China's fixed-asset investment grew 10.7 percent year on year to about 8.6 trillion yuan ($1.32 trillion) in the first quarter of 2016, official data showed on Friday.
Growth picked up slightly from the 10-percent increase recorded in 2015 and the first two months of this year, according to the National Bureau of Statistics.
It marked steady and moderate growth in China's fixed-asset investment, money used to purchase and build factories, machines, property and other fixed facilities.
In breakdown, fixed-asset investment in agriculture was up 25.5 percent in Q1, followed by 12.6 percent for the service sector and 7.3 percent for industry.
State-owned enterprises' investment surged 23.3 percent year on year while investment from the private sector accounted for a whopping 62 percent of the total.
The amount of capital in place for investment increased 6.4 percent in Q1, with the government budget for fixed-asset investment rising 16.9 percent and foreign investment dropping 25.6 percent year on year.
The total planned investment in newly-started projects stood at 8.1 trillion yuan, up 39.5 percent year on year.