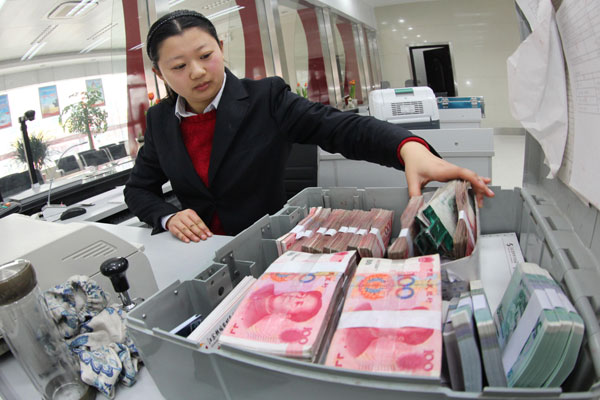 An employee prepares money at a commercial bank in Ganyu, Jiangsu province. New loans stood at 1.05 trillion yuan($169 billion)in March, up from an average of 981.8 billion yuan in January and February. SI WEI/CHINA DAILY
Central bank also reports increase in foreign reserves to nearly $4 trillion
Money supply growth decelerated further in March amid a reform-induced economic slowdown, according to figures released on Tuesday by the People's Bank of China.
The central bank said that the expansion of M2, a broad measure of money supply, slowed to 12.1 percent year-on-year from 13.3 percent in February. The market consensus was for an increase of 13 percent.
Slower deposit growth, which limits banks' ability to lend, was a factor. Yuan deposit growth fell to 11.4 percent year-on-year in March from 12.5 percent in February.
Zhang Zhiwei, a Hong Kong-based economist with Nomura Securities Co Ltd, wrote in a note on Tuesday that slowing money supply growth last month also reflected a reduction in capital inflows as the yuan weakened 1.2 percent against the US dollar during the month.
"The PBOC's intervention appears to have stymied one-way positioning in the yuan, and capital inflows may have fallen, thus possibly reducing the contribution from foreign exchange purchases to money supply," Zhang wrote.
Foreign exchange reserves expanded by $128.7 billion in the first quarter to $3.95 trillion, the PBOC said.
Money supply growth is slowing along with the economy, experts have said. First-quarter GDP, to be announced on Wednesday, is likely to be the weakest since 2009 as broad reforms announced in November take effect.
Liu Ligang, a Hong Kong-based economist with Australian and New Zealand Banking Group Ltd, said that the PBOC will need to cut the required reserve ratio during the second quarter to lower the costs of corporate financing and sustain broader growth.