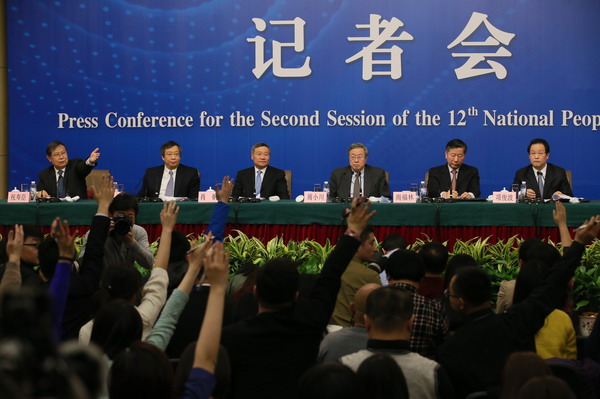 Press conference for the Second Session of the 12th National People's Congress. [Wang Jing / China Daily]
China plans to free deposit rate in 2 years
China is set to fully liberalize its interest rate within one or two years, in a bid to further reform the financial sector, the Central Bank governor Zhou Xiaochuan said on Tuesday at a news briefing during the two sessions.
"We will let the market play its due role in interest rate liberalization. That's for sure," Zhou said. "Deposit rate is set to ease within one or two years. It's part of our plan."
He added that interest rates will possibly go up, but will eventually level in the longer term due to market forces and competition.
Financial reforms, including yuan globalization, banking regulations, private equity, debt risks control, will be launched with zeal, although some steps may take three or five years, Zhou said.
The country has stepped up its efforts to push for economic reforms in recent years, rolling out a slew of measures and regulations in the process.
"Reforms in other fields, including rural reforms, resource distribution and economic opening-up, will also involve financial reforms," Zhou added. "We will get them done step by step."
China wants insurance to cover catastrophic events

Establishing an insurance system that covers catastrophic events is an important and urgent task for the Chinese government, said Xiang Junbo, president of the China Insurance Regulatory Commission.
Globally, about 30 to 40 percent of disaster losses are covered by the insurance system. However, the level is only about 1 percent in China.
For instance, the Wenchuan earthquake caused 845.1 billion yuan ($137.84 billion) in direct economic losses, but insurance covered only 2 billion yuan, accounting for 0.2 percent, said Xiang.
The Chinese government has been planning to establish an insurance system that covers catastrophic events and has been pushing for legislation, said Xiang.
Two pilot projects have been prepared. One is in Yunnan province, providing property insurance to more than 500,000 rural households against earthquake. The other one is in Shenzhen, providing casualty insurance to every citizen against earthquake, typhoon and tsunami.
China to improve capital market system

The main theme of 2014's tasks is to improve multi-level system of the capital market, said Xiao Gang, chairman of the China Securities Regulatory Commission,
China will further develop the multi-level stock market, including the main board, small- and medium-sized enterprise board and growth enterprise market, said Xiao.
The regional equity market will be incorporated into the multi-level capital market on the basis of clean-up and rectification, Xiao added.
China will also further deepen the reform of bond market, develop futures markets and its derivative market and boost the private capital market, according to Xiao.
SAFE takes steps to reform forex management

The State Administration of Foreign Exchange (SAFE) has boosted the competitiveness of Chinese enterprises and financial organizations by reducing 70 percent of administrative examinations in recent years, said Yi Gang, vice-governor of the central bank and head of SAFE.
The department has carried out five measures to reform the exchange management: Shifting focus from examination to monitoring and analyzing; moving focus from proactive regulation and supervision to post-mortem supervision; shifting focus from monitoring management behavior to management of the main body of the enterprises or financial organization; moving focus from the presumption of guilty to innocence; from positive list to negative list, said Yi.
These five steps provide a convenient platform for trade and investment. By reforming the import and export receipt verification system, the average time of a single transaction has been shortened to less then 10 minutes from more than 20, he said.
By streamlining administration, especially foreign debts and foreign direct investment process, the SAFE has enhanced the capital account convertibility. To counter the risk of cross-border capital flow and changes in the global financial market, the SAFE plans to strengthen supervision, said Li.
Pilot private banks to be established

The China Banking Regulatory Commission (CBRC) has allowed private banks to be established, and it will create five pilot projects in Tianjin, Shanghai, Zhejiang and Guangdong, said Shang Fulin, chairman of the CBRC.
The pilot project will be operated on a co-sponsor system, which means there will be no less than two investors in each private bank. The CBRC will take all measures to boost the presence of private bank and will approve them after studying the pilot project. The private banks will operate under national regulatory system and under CBRC supervision. They will run independently and will focus on small or micro firms and community services to promote the financial system in the country. The banks should take steps to control risks and losses so as to protect customers' rights and interests. The CBRC will strengthen supervision of shareholders to stop private banks shifting their core functions to financing tools.
Renminbi internationalization on way

Although more and more people are using yuan in the international trade, its proportion in the international trade is still low compared to other currencies, said Zhou Xiaochuan, governor of People's Bank of China (PBOC).
Making it a truly global currency is a long process, but the PBOC is trying to remove some unnecessary restrictions and controls. The central bank respects market participants' choices, and will provide more incentives to traders to use yuan. In addition, the PBOC is promoting the gradual conversion of yuan capital items.
Steel industry faces adjustment and restructuring

The Chinese government supports adjustment of the industrial structure and encourages mergers and reorganizations of some outdated and overcapacity companies, said Shang Fulin, chairman of the China Banking Regulatory Commission.
Some of them were even shut down to improve the capacity of some high-efficient ones.
The central bank is strictly regulating the process of providing credit to the steel industry. It will refuse to provide loans to the firms if they fail to meet environmental requirements.
PBOC considers lifting conversion cap in HK

Although more research is needed before restrictions on 20,000 yuan daily conversion cap per person is lifted in Hong Kong, there will be less controls over the RMB in the future, said Zhou Xiaochuan, governor of the central bank.
"The proposal to relax the policy was raised last summer, so we need time to look into it", Zhou said. "But PBOC will relax more rules to speed up the convertibility of renminbi."
He said Hong Kong should continue its innovation and development and keep strengthening its competitiveness, adding that the "PBOC is always supportive of Hong Kong's development".
China to enhance agricultural insurance supervision

China will expand coverage of insurance to food production, said Xiang Junbo, president of the China Insurance Regulatory Commission.
According to Xiang, problems remain in the insurance sector in the agriculture industry. China needs to expand insurance coverage and form a catastrophe risk mechanism as well as solve problems regarding settlement claims.
Xiang said that China has a positive and supportive view on foreign insurance companies participating in the country's agriculture sector in the future. Capability and service coverage of these companies will be the deciding factor, he said.
China will strengthen supervision and implement insurance regulations as well as prevent risks, especially to ensure the ability to withdraw catastrophe risk insurance reserves in full to prevent systematic and regional problems from happening.
China will make it easier for smaller firms to get loans

Growth rate of loans provided to small- and micro-sized and rural companies has been on par with the average rate of loans provided to all kinds of enterprises in the past five years, said Shang Fulin, chairman of the China Banking Regulatory Commission.
Volume of loans disbursed also increased in the same period, he said.
Currently, banks have to pay more to acquire information about small- and micro-sized companies and small- and micro-sized companies have to bear higher interest rates, as well as intermediate expenditures and guarantee fees, which results in barriers between the two sides.
To improve the situation, an information platform for small- and micro-sized companies will be built, which will enable banks to get information conveniently, said Shang. Guarantee organizations are encouraged, Shang added.