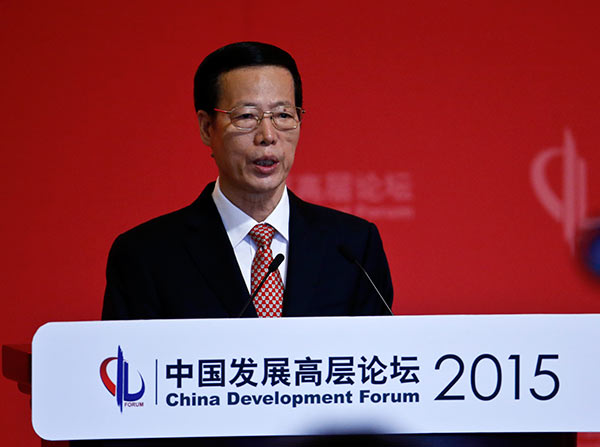 Vice-premier Zhang Gaoli addresses the opening ceremony of the China Development Forum 2015 held at the Diaoyutai State Guesthouse in Beijing.[Photo by Feng Yongbin / chinadaily.com.cn]
Mass entrepreneurship and innovation will serve as one of the twin engines of the country's economic development, said vice-premier Zhang Gaoli at China Development Forum 2015 on Sunday.
The vice-premier added that increased public goods and services will also help serve the economy.
During his speech, Zhang vowed that the country will promote in-depth integration of science and technology with economic and social development, persist in open innovation, and step up intellectual property rights protection.
"Only by promoting entrepreneurship, innovation and creation can China's economy brim with genuine dynamism and vitality," said the vice-premier, adding that innovation is becoming a defining feature of growth.
The country's services sector grew faster than the industrial sector in January and February, the high-tech industry grew faster than the industry as a whole and private investment grew faster than other investments, said Zhang.
In 2014, China's spending on research and development totaled 1.33 trillion yuan ($214 billion), accounting for 2.9 percent of the GDP.
The country will strive to achieve the dual objectives of maintaining a medium-high rate of growth and moving toward a medium-high level of development, said Zhang.
"The growth model featuring high input, high energy consumption and over dependence on external demand is no longer sustainable," said the vice premier, adding that economic growth and upgrading will both contribute to the country's inclusive and sustainable development.
The State Council-backed forum, which is being held at the Diaoyutai State Guesthouse in Beijing from Saturday to Monday, focuses this year on China's economic development under the new normal of slower, more sustainable growth.