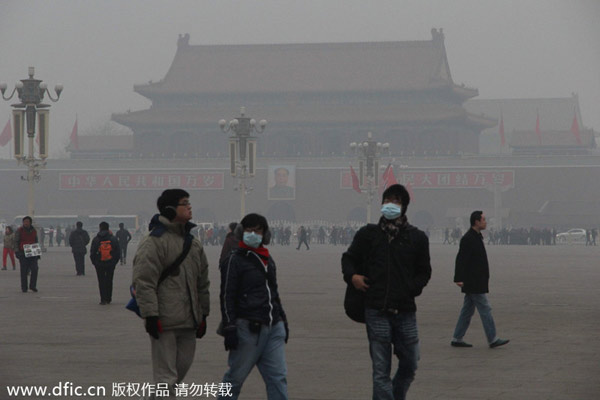 Tourists wearing face masks visit the Tiananmen Square in heavy smog in Beijing, Feb 25, 2014. [Photo / IC]
BEIJING -- Beijing mayor said Beijing will map out a long-term planning to tackle smog and curb air pollution with neighboring Tianjin municipality and Hebei province.
The mayor Wang Anshun addressed the China Development Forum 2015 which opened on Saturday, saying that Beijing failed to achieve last year's target of cutting PM 2.5 density by around 5 percent, despite traffic control, emission reduction and more plants.
"We cut the PM 2.5 density by 4 percent last year, showing a good trend." he said. "Beijing and its neighbors will strengthen cooperation and continue improving air quality."
Wang said the areas around Beijing are facing severe ecological situations like water shortage and air pollution, which called for more attention and immediate moves.