Karaoke craze hits the right notes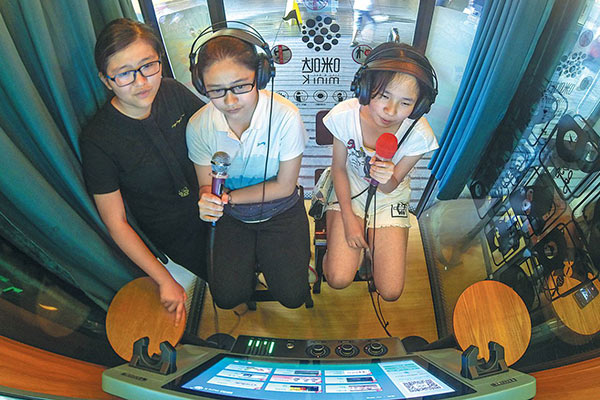 Music fans sing in a self-service karaoke booth at a shopping center in Chengdu, capital of Southwest China's Sichuan province.HAO FEI/ FOR CHINA DAILY
Online giants and innovative startups scramble to gain slice of app market
Qiu Bo loves karaoke.
Nearly every Friday night, the 29-year-old bank clerk joined a group of friends to sing and drink in a bar for a few hours.
But those memories are fading fast as changing times bring changing habits.
Instead of just crooning with a bunch of pals, he now puts on earphones, swipes his smartphone and starts singing by using a karaoke app.
"I like singing, but you always need a group of friends to go to karaoke with," said Qiu, who lives in Shanghai. "With karaoke apps, I can sing alone."
Interwoven into the very fabric of China's social scene, karaoke is shifting from group entertainment to a thriving, solo business.
Mobile internet has transformed this part of the entertainment industry, Liu Jiehao, an analyst at consultancy iiMedia, pointed out.
"They rely on sing-along apps, mostly with singing cues to use with it," Liu said. "They can now enjoy those moments of stardom anytime and anywhere."
The karaoke craze originated in Japan during the 1970s and swept across Asia in the late 1980s.
Simply translated into "empty orchestra", karaoke became a massive business in China.
Ordinary people rushed to sing blockbuster records from Chinese divas such as Teresa Teng and Faye Wong or Cantopop crooner Jacky Cheung.
In a matter of years, karaoke bars dotted the country's landscape.
But today, this pastime has had a digital makeover. Songs, which used to be selected from an electronic screen, can now be downloaded through a mobile app.
With hundreds of millions of grassroot singers in the country, who upload and share their performances online, this sector is booming.
It is becoming so popular that mobile karaoke is expected to claim a growing chunk of China's 17.9 billion yuan ($2.73 billion) digital music industry this year, according to consultancy Analysys in Beijing.
"Mobile karaoke apps are gaining steam because of TV reality shows such as The Voice of China and I Love to Memorize Lyrics," said Neil Wang, president of consultancy Frost& Sullivan, Greater China.
"They have transformed ordinary people into pop stars in this social media era," he added.
Yet the main driver of this renaissance has been mobile connectivity, which is reshaping the entertainment sector.
Major Chinese tech companies are plowing billions of dollars into building an arsenal of products with production studios and music libraries.
Last year, Tencent Holdings Ltd rolled out subsidiary, Tencent Music Entertainment, in a move to acquire the biggest music archive in the country.
In the online juggernaut's first half financial report published in August, virtual item sales generated from music service subscriptions helped fuel the group's 57 percent revenue surge year on year.
Even so, the company did not disclose how much the business was worth.
Alibaba Group Holding Ltd has gone down a similar route.
Last month, it launched Alibaba Digital Media and Entertainment Group with a fund of more than 10 billion yuan for new projects.
Already the online big boys are scrambling with startups to grab a bigger slice of the cake when it comes to the battle of the apps.
Quanmin K Ge, or Everybody Sing Along, is a dominant karaoke app backed by Tencent.
Its 460 million registered users, roughly the equivalent of one-third of the population in China, can share their recording efforts with friends or other karaoke fans.
"Seventy percent of (our users) open the app every month and spend a solid 16 hours on practicing and modifying their performances, as well as listening to others," said Dennis Hau, vice-president of Tencent Music Entertainment Group.
"It is the communal experience that Quanmin excels at and makes a profit from," he added.
Indeed, karaoke apps act as social media platforms.
Performers can earn badges and see where they rank in the charts after belting out a song.
Viewers and listeners can also shower their favorite singers with virtual gifts, such as flowers and designer bags, purchased with real money.
"Giving virtual gifts are really the social fabric connecting users who don't actually know each other offline," said Wang Chuanzhen, an analyst on interactive entertainment at Analysys.
"It's a real money-maker for app developers," Wang added. "The number of 'likes' you get is a strong proof of your mettle. Once you get the attention, you may end up spending more time there."
With so much at stake, the marketplace is starting to get crowded.
Changba, which literally translates into Singing Bar, was wheeled out in 2012 and is a major rival of Quanmin with an estimated 30 million monthly active users.
Data released by Beijing-Changba Technology Co Ltd also showed that more than 60 percent are females between the ages of 20 and 25.
"It is important that users can interact with people they like," said Chen Hua, founder and CEO of the company.
"The decision to launch a 'duet model' is effectively turning the app into a thriving community," he added.
Zhuang Lili is a big fan of Changba. She is attracted to features such as the "bullet curtain", where users post comments which shoot across the screen like projectiles or expressions of emotions.
"I am thrilled when other people click a 'like' button on my songs. It makes me want to spend more time singing and practicing," said the 21-year-old college student in Nanjing.
"Clearly people are seeking recognition on such apps. I am happy to share my feedback. It brings us closer," she added.
Like many other businesses in China, the mobile karaoke industry is riding the online-to-offline wave.
M-Bar is a classic example of that. It runs traditional self-service karaoke booths in shopping centers across China's major cities.
Music lovers can "scan in" by using a variety of accounts on sing-along apps. Then they can rock the microphone for 15 minutes or an hour all in the privacy of a 2-square-meter cubicle.
The booths are also plugged into social media, so customers can get recordings of their karaoke sessions sent to them via WeChat and Weibo.
From there, they can post their biggest hits, pretty much like an audio or video selfie.
"The tie-up with karaoke apps will bring synergy and help optimize online and offline traffic," said Luo Anwu, vice-president of M-Bar.
Traffic driven by a growing army of avid users has triggered another source of revenue, advertising.
Thousands of brands have used karaoke apps as new avenues for targeted marketing, and the effects have been profound.
"Brands are always searching for the most relevant channels to their target audience," said a director, who handles 10 brand ad displays on multiple singing apps, for a Beijing-based digital media-buying agency.
"You will capture a majority of your potential consumers who are young, trendy, tech-savvy via these apps," the director, who declined to give his name, added.
To illustrate his point, mobile KTVs have become a source of inspiration for the advertising world and users with their singer-friendly gadgets.
Quanmin has already teamed up with Lenovo Group Ltd and Hisense Group Co Ltd to roll out Bluetooth-enabled microphone-speakers, as well as portable screens for karaoke on the go.
Sing-along apps are also jumping on the paid-content bandwagon by turning into virtual classrooms to help budding singers.
This is yet another example of online consumers willing to splash out on the right media and educational programs.
Hu Yanbin is a well-known Chinese pop singer and founder of Niuban, an app which specializes in singing techniques and the history of music.
He is now linking up with karaoke apps to offer a variety of classes in singing. The courses cost between one yuan and 99 yuan.
"Cultural habits have changed in the past few years from downloading everything for free to paying for the right sort of digital content," Hu said.
Wang, of Frost & Sullivan, agreed with that assessment.
"Music lovers who value the opportunity to learn from well-known singers are happy to pay a premium," he said.