Online function gives singers fun options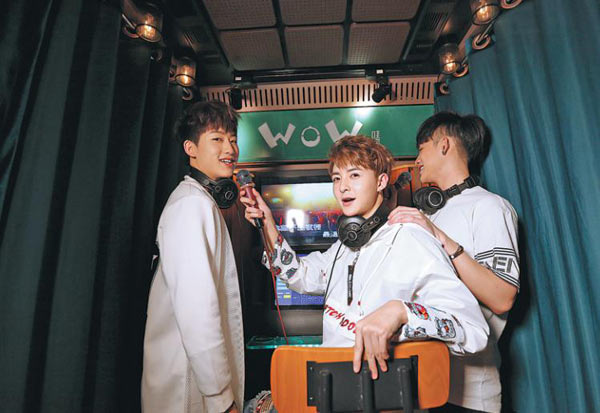 A group of youngsters try the services offered by WOW mini KTV. [Photo provided to China Daily]
Beijing ThunderStone Technology Co Ltd, one of the largest karaoke system suppliers in China, is gearing up its expansion of online-to-offline or O2O services, betting big on the emerging market segment for karaoke lovers.
The Beijing-headquartered company said it would spend 300 million yuan ($43.57 million) on its mini karaoke booth called WOW House. And it plans to expand the number of installed self-service entertainment machines to 100,000 units by the end of 2017, mainly in cinemas and restaurants.
WOW mini KTV product director Lei Yifeng said the company was keeping an eye on the latest developments, and it sees China as a big potential market for self-service entertainment booths.
"We see a very positive outlook for that capability," he said: "With the rapid development of mobile internet, consumers are able to enjoy the convenience of paying with mobile devices, which enables the new self-service entertainment modes.
"Today our lives move at a fast pace. Compared to spending a particular period of time for entertainment like singing karaoke, using it in our spare time may be a better idea."
Founded in 1996, ThunderStone accounts almost half of the global market share for karaoke systems, covering around 40,000 KTV stores, according to company figures.
Seeing the potential to cater to younger generations and karaoke lovers, the firm launched the WOW mini KTV program at the end of 2016. Generally, users pay around 20 yuan for 15-minute karaoke and the price fluctuates according to the needs.
"As few State-owned companies pay for staff entertainment, the traditional KTV business is declining. Thus we really need transformation and upgrades, attempting to create new momentum in the key market," Lei said.
According to the company, the retail price per machine is 23,800 yuan. Taking Beijing as an example, during peak time it can earn at most 1,000 yuan per day from one machine. That means it can yield high rates of return, with break-even in three to four months.
Originating in Japan, the personalized mini KTV was formerly a small-sized version of a normal KTV room. Entering China, manufacturers upgraded it by adding online functions to cater to consumers' specific needs. Now Chinese users are able to share the saved recordings on social networking platforms, such as WeChat.
Wang Chuanzhen, interactive entertainment analyst at Beijing-based consultancy said the new mini karaoke booth was actually an effective complement to traditional KTV bars.
"They cater to consumers' different needs. Mini KTV targets the groups yearning to kill spare time while shopping, while traditional KTV aims to meet the consumer's need to meet friends. To seek further development, mini KTV needs to expand to more places and involve more users, instead of only the younger generations seeking new trends, to use the services."