Mini karaokes hit China's starry-eyed spot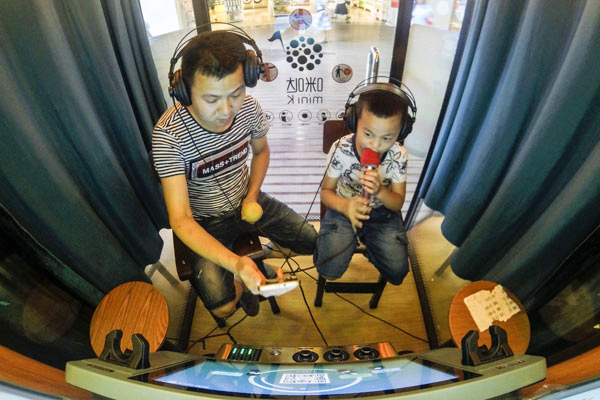 Customers sing at a mini karaoke booth in the basement of the Tianfu Square in Chengdu, capital of Sichuan province. [Photo by Hao Fei / For China Daily]
CHANGCHUN - In a small, enclosed booth, with lights, speakers and microphones, anyone can be a singing superstar!
In China, mini karaoke (KTV) booths are taking the country by storm. The sound-proofed KTV booth is typically equipped with an air-conditioner, a couple of chairs and headsets. You pay a fee, put on the headset, close the curtain and sing your lungs out.
Mini KTVs are everywhere: shopping malls, cinemas, subway stations. They have a similar function to traditional karaoke, but in a more intimate environment.
"No matter how good or bad I sing, nobody can judge me, and I can just have my moment," said Li Rui from Changchun city, capital of northeast China's Jilin province.
Li said that in traditional KTVs, you have to reserve rooms in advance and there are always "extra charges" such as beverages and fruit.
According to research company iiMedia, the value of the mini KTV market in China will hit 3.18 billion yuan ($473 million) this year, almost twice as much as last year. And market is expected to double again in 2018.
For many urbanites singing is just a way of relieving stress.
"In the past, hosting a party in a KTV meant you had to invite a lot of people, set up a date when everybody was free and book a room, which was not so easy," said Ma Yan, a music fan. "But with mini KTV booths, everything is easy."