JD uses blockchain to increase traceability of its supply chain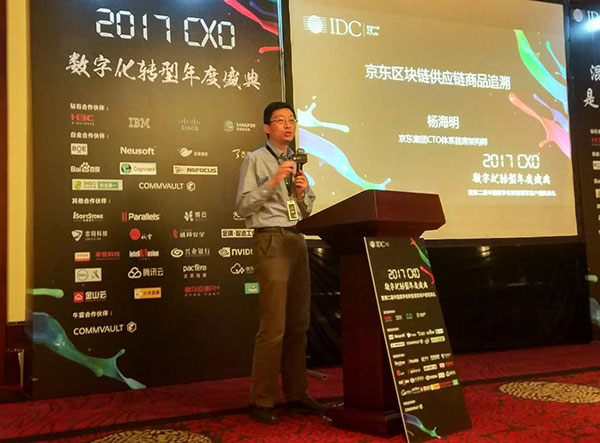 Yang Haiming, chief architect of JD CTO system, makes a speech at an IDC CXO conference about digital transformation held in Beijing on Nov 14, 2016. [Photo by Song Jingli/chinadaily.com.cn]
China's e-commerce giant JD.com is building a traceability system with its 30 plus brand owners on its open blockchain platform, said Yang Haiming, chief architect of JD CTO system, at an IDC CXO conference about digital transformation held in Beijing on Tuesday.
He said the system would enable consumers to trace where the material for the product was sourced from, to where and when it was processed, stored, sold and delivered.
Beef brand Kerchin and nutrition brand Wyeth are among the 30 plus brands that are building such a system with JD, Yang added.
Yang told chinadaily.com.cn that currently luxury companies and fresh produce firms are more willing to build such a blockchain traceability system as more and more luxury products are sold online and they have the need to show their authenticity.
In addition to that, these companies are able to absorb high costs in building such a system, he added.
"Whole-process traceability is not a new concept but blockchain makes it really possible," Yang told chinadaily.com.cn, adding that traceability information in the past was easy to be altered but blockchain technologies could stop such alternation.
On Monday, IDC China revealed 10 predictions for the internet and communications industry and one of them was that blockchain would enter commercialization by 2021. Wu Lianfeng, vice president of IDC China, said at least 25 percent of the world's top 2,000 enterprises will adopt blockchain services at scale as the foundation for digital trust, while the adoption rate in China might be 20 percent.