An international student's digital life in China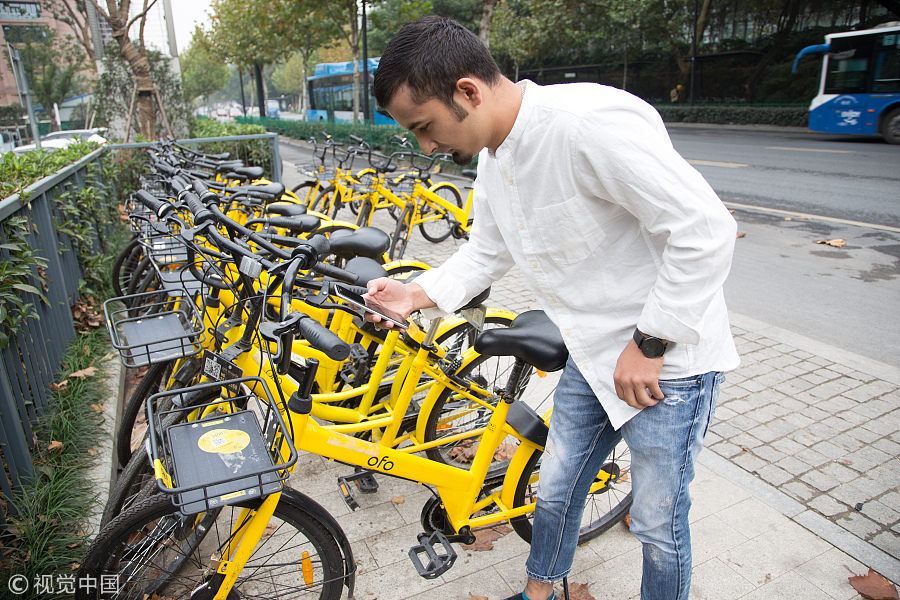 Nayeem Hafeez scans a QR code to unlock an Ofo sharing bike in Hangzhou, East China's Zhejiang province, on Nov 12, 2017. [Photo/VCG]
Nayeem Hafeez, a student from India, is amazed by the fast development of mobile services in China during his one year stay in Hangzhou, East China's Zhejiang province.
Hafeez, whose Chinese name is Ning Yan, enjoys the convenience of digital life in China by paying for almost everything such as transportation, food and entertainment via his mobile phone.
Encouraged by his Chinese girlfriend, Hafeez, who is a member of post-1995 generation, downloaded Alipay to his mobile phone at the beginning of 2017.
He can now easily use Alipay to order food by looking at pictures of dishes and prices of them on his mobile phone, which is a very convenient method.
Hafeez can even scan QR codes to get information on the popularity and characteristics of a hairstylist and his favorite hairstylist's schedule via his mobile phone.
"There is mobile payment in India, but it's not at this level," said Hafeez, who carries less and less cash in his pocket.
He estimated that he pays over half of his monthly bills via diversified mobile payment services such as Alipay.