Top 10 most fascinating Chinese cities for international tourists
Of the cities in China, Shanghai is the most fascinating for international tourists due to modern lifestyle facilities such as shopping malls and entertainment venues, according to a report released by Google and market research company Ipsos.
Beijing ranked second, thanks to its great number of historic sites, museums and intangible cultural heritages, according to the report on international tourists' recognition and attitudes toward Chinese cities.
Dalian, a coastal city in Northeast China with a population of 6.99 million and 773.16 billion yuan ($116.18 billion) in gross regional product, also made the top 10 list because of its beautiful scenery and good investment environment, as reported by Ipsos and Google.
The rankings, published on Oct 22, are based on an online impressions survey of 39 Chinese cities from 28,000 tourists representing 19 countries. The survey takers are aged between 18 and 60.
Ipsos' Brand Value Creator model was combined with Google search index's behavior data to analyze the survey in order to get an overall impression of these cities for the ranking.
Long histories, places of interests, Asian flavor, cost-effective products and delicious food are major factors that affect international tourists' decisions on tourism destinations, the report revealed.
Let's take a look at the top 10 most fascinating Chinese cities for international tourists.
No 10 Chongqing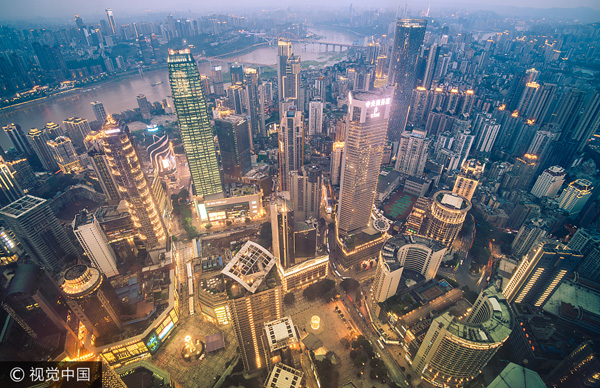 Skyscrapers in Chongqing municipality, Southwest China, on June 11, 2017. [Photo/VCG]