China Poly merger a milestone in SOE reform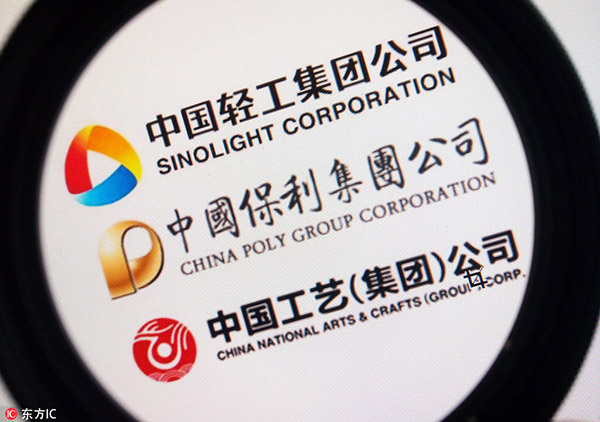 Logos of China Poly Group Corp, Sinolight Corp and China National Arts and Crafts Group. [Photo/IC]
Real estate developer China Poly Group Corp's merger with Sinolight Corp and China National Arts and Crafts Group marks a future trend in China's ongoing efforts to improve its State sector, an expert said.
A giant State-owned enterprise with diversified and international business merging with firms with relatively smaller assets and overlapping business will be the future direction of SOE restructuring and reform, said Li Jin, chief researcher at the China Enterprise Research Institute.
Compared with previous mergers in the upstream and downstream sectors, the merger plan which will make Sinolight and China National Arts and Crafts Group subsidiaries of China Poly Group, is more like a "big fish eating smaller fish", and could further reduce the resistance of State-owned companies to reform and raise competitiveness, said Li.
The State-Owned Assets Supervision and Administration Commission said on Monday that Sinolight and CNACGC will be merged into China Poly Group Corporation and become the latter's wholly owned subsidiaries
Sinolight and CNACGC will no longer be directly supervised by the State asset regulator after the merger, which brings the number of central SOEs down to 99, from 196 in 2003.
The Chinese government had repeatedly vowed to reduce the number of central SOEs to fewer than 100 as it accelerated restructuring and reforms to make SOEs more efficient and competitive.
Li said that number of central SOEs could be cut down to 90, and more SOE restructuring plans are expected to gain approval, with the coal, steel, heavy equipment and thermal power sectors being top priorities.
According to Li, Poly Group, a conglomerate on the Fortune Global 500 list with business covering international trade, real estate, culture, civilian explosives production and investment in resource exploitation, will see its business complemented by that of the other two companies after the merger.
Sinolight was formed after the merger of three central SOEs, with its primary business including development of light industry raw materials and products, while CNACGC was established after the merger of two central SOEs and engages in the production and trade of arts and crafts materials.
According to Li, SOE restructuring involves many sectors and shakes up vested interests, which requires overall planning and coordination by the central government.
China has completed mergers among 30 central SOEs since late 2012.
In late June, SASAC announced the merger of the China National Machinery Industry Corp (Sinomach) and the China High-Tech Group.