Centrally administered SOEs to be divided into three categories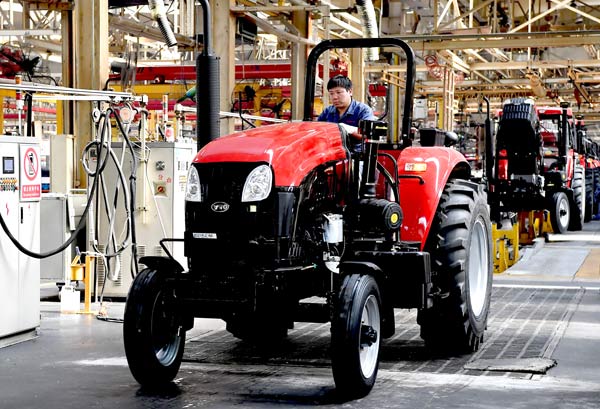 A tractor comes off the production line of YTO Group Corp in Luoyang, Henan province. [Photo/Xinhua]
China's centrally administered State-owned enterprises (SOEs) will be divided into three categories: industrial groups (corporations), investment companies and operating companies.
Related documents formulated by the Ministry of Finance and the State-owned Assets Supervision and Administration Commission will be unveiled this year, news outlet Caixin Media reported on Wednesday .
All centrally administered SOEs will be included in this classification, Caixin said.
In the future, there will be more than 50 industrial groups (corporations), 20 investment companies and two to three operating companies, indicating that the number of central SOEs will be reduced to about 80.
Currently, China has 101 centrally administered SOEs, which manage the bulk of the country's State assets.
This year, the government pledged to deepen reform of State-owned enterprises and promised measures, including the introduction of a mixed ownership system and efforts to make SOEs leaner and healthier.
At present there are 10 central SOEs participating in the pilot program for State-owned capital investment and operating companies, including two operating companies and eight investment companies.
The first two pilot central SOEs, China Chengtong and China Reform Holdings Corp, have established two new State-owned funds, whose capital was 550 billion yuan last year. The funds are for financing SOEs' structural adjustments as well as their transformation and upgrading.