Seed of success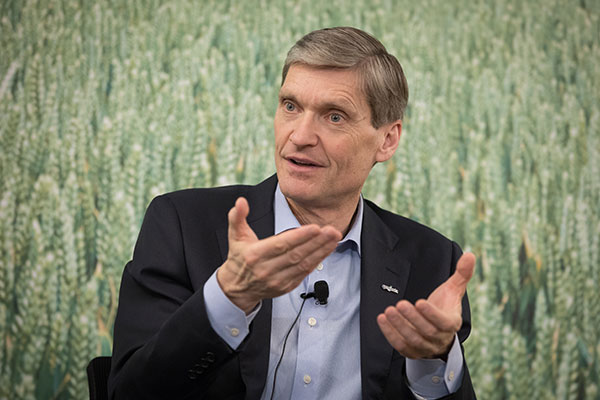 Erik Fyrwald, chief executive officer of Syngenta AG. [Photo provided to China Daily]
The head of Syngenta has big plans for China's agribusiness after the crop company was taken over by ChemChina in a $43b deal
Erik Fyrwald is a United States citizen running a Switzerland-based multinational agribusiness owned by one of China's largest corporations.
You can't get more global than that.
But then, the 57-year-old chief executive officer of Syngenta AG believes Europe's biggest crop protection and seeds group is entering a new era of expansion and growth.
Last year, State-owned China National Chemical Corp announced a $43 billion bid for the company and the acquisition has since been completed.
ChemChina's move came just after the merger of agriculture and chemicals giants Dow Chemical Co and DuPont Co was disclosed.
"Under new Chinese ownership, we can work to make a major impact in China," Fyrwald said. "Food production systems face demands in both quality and quantity in the country."
A major player in the farming sector, Syngenta was founded in 2000 and reported sales of $12.8 billion last year with net income of $1.17 billion.
Operating in 90 countries and regions, the company employs more than 28,000 staff with at least 5,000 technicians working at 119 research and development centers globally.
The annual R&D budget comes in at $1.3 billion, according to Syngenta's official website.
"We lead the industry in our commitment to research and development," Fyrwald said. "We are proud of that."
In an in-depth interview with China Daily, he talked about the company's business plan in China, his commitment to helping farmers through innovation and how he handles setbacks.
How do you assess the prospects of your company in China?
Naturally, China is a top priority for Syngenta. We have a strong team here and we will invest more in China in the future. Our goal is to provide advanced seeds and crop protection technologies, combined with advanced agronomic advice.
This will help farmers improve Chinese agriculture, so they can provide food security, safety and quality for the country's consumers. We must also do this in a way that helps improve the environment by reducing carbon emissions and water usage. Since Syngenta was formed, we have invested more than $360 million in China and we have 2,000 employees.
What is the development potential of the Belt and Road Initiative to Syngenta?
Well, the Belt and Road Initiative is supported by more than 100 countries, regions and international organizations. This provides further potential for Syngenta to extend partnerships and increase its global presence.
We serve farmers in nearly all the countries and regions related to the initiative, and we will now be able to extend out products and services.
What are you focusing on in China now?
We have developed solutions that improve produce such as rice, corn and potatoes. We can deliver improvements in both yield and quality while improving resource efficiency. We have also improved the taste of vegetables through new breeding techniques.
But then, we constantly develop these products and service solutions. They contribute to our commitments under The Good Growth Plan, which has very specific goals to improve the sustainability of agriculture.
What can you do to improve the agricultural industry of China?
Agriculture in China needs to be more sustainable as there is limited land and water. Also, there is a desire to cut carbon emissions. By providing better seeds and more effective crop protection products that require lower volumes of water, we can help improve production and environmental sustainability.
Of course, we must combine this with improved cultivation techniques that do not deplete the soil. We also found that the proportion of the rural population living in poverty has fallen.
To eradicate poverty by 2020, China pledged to lift 10 million people out of this trap every year from 2016. Through better services, such as improving yields, Syngenta can further upgrade the living standards of Chinese farmers.
How do you assess the prospects of the Chinese market and economy?
The country has great potential when it comes to agriculture. In the process of developing modern and sustainable farming, China needs to use advanced technology. The country itself has also developed key technologies for agriculture.
We look forward to collaborating even more closely with scientific institutes in the country as a Chinese-owned company. We must also find ways for these technologies to complement Syngenta's high-tech approach to bring even more benefits to Chinese farmers and consumers.
What is your secret to making Syngenta successful in China?
Most important to our success is our long-term commitment to the market in China-to our farmers, customers and our employees. We want to help farmers succeed today. We also want them to succeed in the next five years as well as the next 100 years.
My style of management has changed by doing business in China. I am focused on doing everything I can to help our customers today and in the long term. Also, I have learned how crucial it is to have strong leadership on the ground in China.
What is your biggest achievement in China as CEO of the company?
My greatest achievement has been to work with my team to recognize the opportunities that exist in the market and to strengthen our ability to serve Chinese farmers. We can help bring tremendous value to the country under new Chinese ownership and expand globally.
We believe that with this ownership change, we can work with others to create truly great opportunities, and make a positive impact in the country and the world by helping farmers become more successful. We strive all the time to assure safe, plentiful and healthy food, while making agriculture part of the solution to climate change and water shortages.
How do you get along with your local partners?
Syngenta has a long history of building partnerships in China. Early in 1999, our legacy company developed a partnership with the Ministry of Agriculture to sponsor college students in the sector. This partnership has now been in place for more than 15 years, and its scope has been expanded from scholarships to promoting agricultural know ledge and technology.
We signed another five-year plan with the Ministry of Agriculture to continue to support farmers with training as well as creating opportunities for young scientists.
What is crucial to your operation in China?
Good question. It would have to be focusing on our farmers and customers to bring sustainable innovation to everything we do. Look, we lead the industry in our commitment to research and development, and we spend around $1.3 billion every year.
This helps us bring new products to the market, which are even more environmentally friendly. We also have great teams-in China and around the world-and they collaborate with each other as well as with other entities to bring practical solutions to our farmers and customers.
How do you motivate your international teams?
We have 28,000 people who work for Syngenta in more than 90 countries and regions. They are highly motivated by knowing that each day they help farmers feed the world. And we do this in a way that makes farmers, their families and communities more successful.
We also do it in a way that helps safeguard the environment. We have a clear strategy on how we will continue to strengthen our business. This is through better seed and crop protection products, and better use of digital tools as well as working with downstream food and grain handling companies to ensure safety and nutrition.
This creates lots of energy in our teams.
How do you handle setbacks?
There will always be setbacks in life. I handle them by viewing them as opportunities to learn and grow stronger. We have a transparent, open culture and talk about our challenges, so that we can help each other address them. The highlights of my career have been when I worked as part of a team to address setbacks, and overcame them in a way that made the team and the company stronger.
CV
Age: 57
Nationality: US Citizen
Career:
2016 onwards: CEO, Syngenta, Switzerland
2012-16: President and CEO, Univar, US
2011-12: President, Ecolab, (6 months), US
2008-11: Chairman and CEO, Nalco, US
2003-08: Group Vice-President, DuPont Co's Agriculture & Nutrition, US
1980-2003: Various responsibilities at DuPont Co, the US and Japan
Education:
1998: Harvard Business School, Advanced Management Program, US
1981: Bachelor of Science, major in chemical engineering, University of Delaware, US
Family: Married with three daughters