Reforms unleash vitality of China's SOEs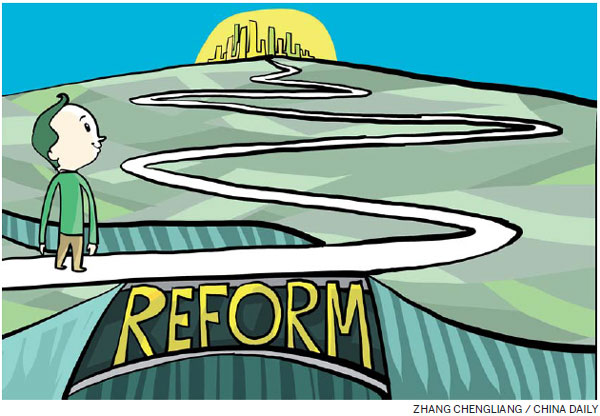 BEIJING - China's State-owned enterprises (SOEs), the backbone of the country's economy, have shown fresh vitality as reforms to these companies gradually bear results.
In the first quarter, the combined net profits of China's centrally administered state-owned enterprises (SOEs) soared 26.5 percent to 226.42 billion yuan ($33 billion), the latest data showed.
Of 102 central SOEs, 99 saw profits in the first three months, with 81 companies collecting more profits than a year ago. Forty-three saw profit increases of more than 10 percent, according to a report released Thursday by the State-owned Assets Supervision and Administration Commission (SASAC).
"The rising profits signal recovery of the overall economy, and they also show that supply-side reform has generated favorable outcomes," said Shen Ying, chief accountant of SASAC.
Overcapacity, poor corporate governance, and low labor productivity had dragged down profits of China's SOEs, which deteriorated in 2015.
Realizing the significance of SOEs to the country's sustainable growth, China launched a series of reforms including restructuring the companies, cutting excessive layers of hierarchy, and calling for innovation among these firms.
Last year, China's central SOEs cut 2,730 subsidiary legal entities and saved 4.91 billion yuan in management costs, according to SASAC.
The first quarter results showed the increased efficiency of many SOEs. Cost per 100 yuan of revenue decreased 0.1 yuan for central SOEs, while productivity per worker increased 9.2 percent. Per capita profit surged 23.5 percent, reflecting more efficient use of human resources.
While traditional sectors such as oil and coal also reported rising earnings, most notable were the increasing contributions by new sectors such as electronic equipment and medical services, said Li Jin, chief researcher with the China Enterprise Research Institute.
An improved structure with more diverse sources of profits should help shape a sustainable growth pattern, Li said.
In a government work report delivered by Premier Li Keqiang in March, China pledged to deepen SOE reform in 2017, promising measures such as introducing a mixed-ownership system and more efforts to make SOEs leaner,healthier, and perform better.
So far, a total of 19 SOEs in industries ranging from electrical services to civil aviation are experimenting with the so-called mixed-ownership scheme, which allows private or even foreign investment into particular companies.
Telecom giant China Unicom, for example, is expected to incorporate private shareholders including local Internet giants via a secondary public offering.
The mixed-ownership scheme will improve the efficiency of state-owned firms, while offering opportunities to the private sector, said Peng Jianguo, secretary-general of a government-run think tank on central SOEs.
"The first quarter results proved that state-owned companies need to become more market-oriented to enhance their performance," Peng said.
While the overall growth prospects for SOEs remain promising, experts are concerned about uncertainties coming from trade frictions and exchange rate volatility, along with rising costs of reforms.
"Taking into account all these factors, we see both opportunities and challenges for SOEs, "said Shen Ying. "The growth momentum will likely continue, but may be at a slower pace."
Authorities have targeted a 3-percent year on year profit growth for central SOEs, up from 0.5 percent last year.
More internal stimulus measures such as stock ownership incentives need to be in place to further unleash the vitality of SOEs, said Li Jin.