Central SOEs reform will be done in 2017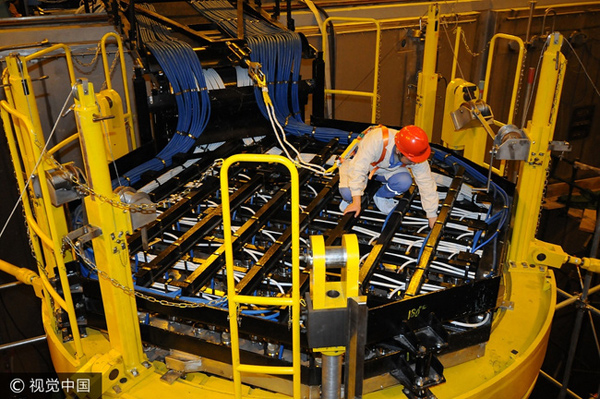 China's new third-generation reactor, using technology known as Hualong One, starts its dome installation in Fuqing, Southeast China's Fujian province, May 25, 2017. [Photo/VCG]

Modernized structure to help clear institutional barriers
With some exceptions, China will include all central State-owned enterprises that have not been reformed in a modern corporate system by making them legal persons by the end of this year. The exception will be those in the financial and cultural sectors. The move is expected to help clear away institutional barriers for further SOE reform.
The move, giving corporations the same rights and responsibilities as people, was announced by the State Council on Wednesday.
It is part of the implementation plan for company system reform for central SOEs, which refers to those directly administered by the State-owned Assets Supervision and Administration Commission, the country's top SOE regulator.
It was also the latest move since the reform was mapped out at the Central Economic Work Conference in December and in the Government Work Report that Premier Li Keqiang delivered in March.
"By the end of 2017, all central SOEs, except financial and cultural ones, will be registered as limited liability companies or joint-equity corporations in accordance with the Company Law, which will accelerate the establishment of an effective and balanced corporate governance structure, based on their legal person status, as well as a flexible and efficient marketized management mechanism," the plan said.
The document provides supportive policies on registration, land usage and taxes. New companies can still be kept solely State-owned and the registered capital will be evaluated based on audited net assets. They can be registered as joint-equity companies with State Council permission, and registered capital is assessed via procedures like audits and asset evaluations.
By the end of 2016, more than 92 percent of subsidiaries under 101 central SOEs had been restructured into modern companies. The reform of the remaining companies is expected to involve 3,200 subsidiaries of 69 central SOEs, which have total assets of 8 trillion yuan ($1.18 trillion).
In the first half of 2017, central SOEs made $78.66 billion in net profit, an increase of 18.6 percent compared with the same period last year, according to the State-owned Assets Supervision and Administration Commission.
SOE reform aims to boost efficiency and increase State-owned assets, said Liang Jun, a researcher at the Guangdong Academy of Social Sciences. "But the reform has been obstructed by some historical problems, including hard-to-define registered capital. The plan will clear obstacles and help eligible SOEs eliminate institutional barriers. The corporate legal person status provides a legal foundation to further the campaign such as acquisitions, mergers and mixed ownership reforms," Liang said.
"Though many SOEs have set up the modern company system, there's still room for improvement," said Li Jin, chief researcher at the China Enterprise Research Institute, saying some companies' governing boards existed in name only.
The China General Nuclear Power Group, the country's largest nuclear operator, wrapped up the reform last year. Its spokesman Huang Xiaofei said the company witnessed a strengthened market consciousness and a more flexible company system after being restructured.
Huang also credited reform with the company's initiating new projects worldwide and its potential to be a major nuclear technology supplier.
Jing Shuiyu contributed to this story.