Shaangu group expands into Germany to boost intl energy production cooperation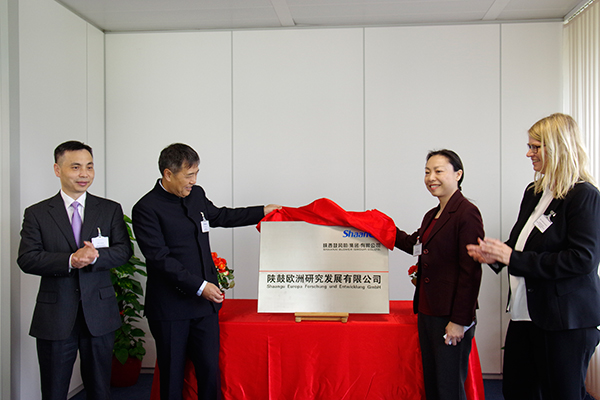 Shaangu Europe R&D's opening ceremony in Germany, May 12, 2017. [Photo provided to chinadaily.com.cn]
Shaanxi Blower Group established a subsidiary, Shaangu Europe R&D, in Germany on May 12.
The company's expansion into Germany aims to integrate its global technological resources and marks a new start in the innovative research of distributed energy technologies.
Shaangu CEO Yin Jian'an said, "The decision to expand into the German market will not only enhance the group's international procurement and business cooperation capabilities, but give impetus to future cooperation on international production capacity."
The comprehensive and efficient use of clean energy and technological research into distributed energy have long been hot topics all over the world.
According to the United States-China Joint Announcement on Climate Change released in Beijing on Nov 12, 2014, China's non-fossil energy shares will rise by 20 percent by 2030.
Distributed renewable energy resources will be an important inlet for non-fossil energy.
Meanwhile, the distributed energy resource industry is expected to become a rich market in the next three to five years, with an expected value of more than 1 trillion yuan ($1.4 billion), giving the industry huge momentum in the near future.
Seeing the bright future of distributed energy resources, several enterprises, both at home and abroad, have been actively involved in the exploration and application of distributed energy technologies. Shaangu is no exception.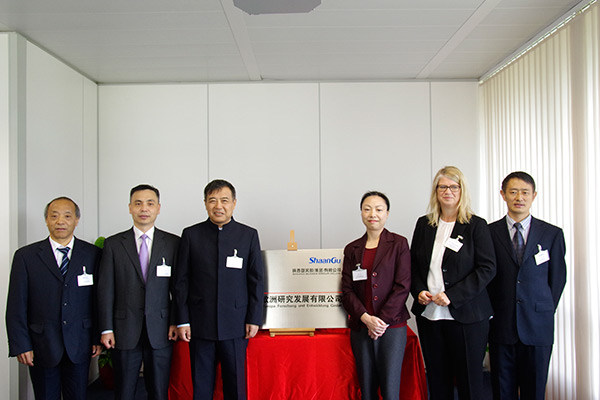 Shaangu Europe R&D'sopening ceremony in Germany, May 12, 2017. [Photo provided to chinadaily.com.cn]
As a qualified system solution and service provider, Shaangu's entrance into the German market aims to integrate global energy resources and establish a distributed energy technology and equipment innovation center.
This will not only provide an open and creative platform for significantly advanced technologies, but effectively promote the industrialization of energy efficient usage and technical equipment.
In addition, improving the internationalization level has always been an important strategy of the group.
Following the 2015 acquisition of EKOL, a leading turbine manufacturer in the Czech Republic, the group has been establishing a global market and R&D system ranging from technology, personnel, finance and marketing to service, procurement and outsourcing businesses.
With the help of its international platform, the group has now built a distributed energy technology R&D system.
It can proficiently use supercritical Brayton cycle power generation, organic Rankine cycle technology, integrated machinery technology and high-parameter steam turbine and biomass gasification technology.
Shaangu's energy recovery coaxial turbines technology, used for waste heat and pressure energy recovery in the metallurgical industry, has been listed in the awards for Top-10 Best Energy-saving Technology and Best Energy Practice by the International Energy Efficiency Partnership Organization.
In 2016, the technology won the Gold Product Award at the Czech Brno International Machinery Industry Expo.
In addition, Shaangu boasts a worldwide marketing system. For example, Shaangu EKOL has achieved many breakthroughs in the field of biomass power generation projects in Egypt, the Czech Republic, Iraq and other overseas markets.
By now, Shaangu's products have spread throughout over 20 countries and regions, including India, Turkey, Iran, the United States, Germany, South Korea, Russia and Vietnam.
With Shaangu Europe R&D, Shaangu Indian and Shaangu EKOL, the group enjoys many advantages when it comes to marketing, technology, and finance.
"We all know that Germany is a pioneer in science and technology across the globe. It not only enjoys a sound ecological system of innovation and entrepreneurship, but is the home of advanced global technological resources," Yin said.
"In future, Shaangu will adapt to the latest trends in global technological resources, and with the help of its science and technology resources advantages, will promote the innovation and development of key technologies of distributed energy. Also, Shaangu aims to strengthen the deepening cooperation in the energy industry chain from the upstream to the downstream processes," he added.
According to Yin, Shaangu will actively involve itself in the Belt and Road Initiative to build a distributed energy industry ecological chain.
The group will also use financial capital as the link to pursue the strategy of "Bringing In and Going Out", while also promoting international energy exchanges and cooperation.