Mainland firms eye big role in US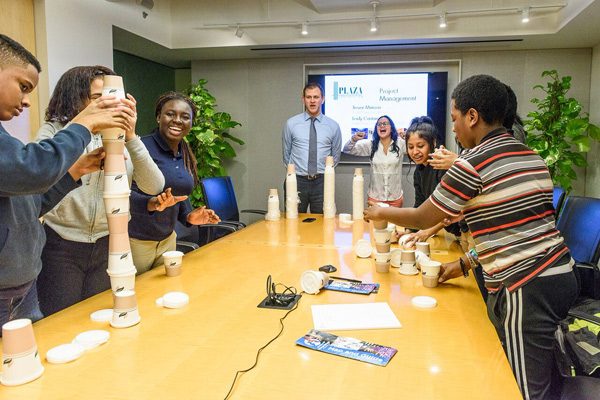 China Construction America Inc hosts New York high school students, on a visit to learn about the construction industry. PROVIDED TO CHINA DAILY
New York Port Authority says China companies welcome to bid
NEW YORK - US President Donald Trump has pledged a massive infrastructure plan in the country, which may bring increasing opportunities for Chinese companies, US experts said recently.
"The Trump administration has been very focused on investing in infrastructure, including public-private partnerships ... we are open for business and welcome Chinese companies to participate and bid for the projects," said Patrick Foye, executive director of the Port Authority of New York and New Jersey, during a business seminar in New York on infrastructure development and investment.
Foye further explained that as the government agency oversees much of the regional transportation infrastructure in the two states, the Port Authority processes bridges, tunnels, airports and seaports, which are revenue-generating assets.
He added it expected to "attract capital from all over the world, including China."
Foye's views were echoed by Stephen Orlins, president of the National Committee on US-China Relations, who also spoke at the event.
"When I looked at the one trillion dollar price tag that President Trump has put on the infrastructure needs of the United States ... I looked at the three trillion dollars in reserves in China, I looked at the expertise that exists in China and I looked at what China Construction America and other Chinese construction companies are doing, creating jobs in the United States," said Orlins.
China Construction America Inc, a wholly owned subsidiary of China State Construction Engineering Corporation Ltd, is among the Chinese companies that have been playing an active role in the US construction market.
Founded in 1985, CCA now has 2,000 employees, of whom 98 percent are local employees, according to company President Ning Yuan, who also attended the event.
Yuan said his group had successfully completed six bridge projects in the New York Metropolitan area and ranked number ten in bridge contractors across the United States.
CCA is fully funded and ready to get involved in more public-private partnership projects, he noted.
Foye pointed out that Chinese companies like CCA should focus not only on capital-raising but also on engineering solutions and creativity when bidding on a project.
"Continued growth and success of the Chinese firms in the US will eventually give them a competitive advantage in the public-private partnership market," said Foye.