China's fiscal revenue records slower growth in April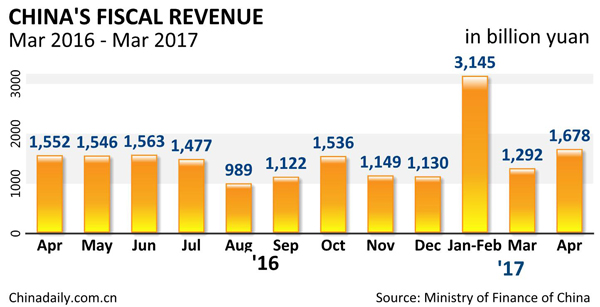 BEIJING - China's fiscal revenue recorded slower growth in April climbing 7.8 percent year on year to 1.68 trillion yuan ($243 billion), the Ministry of Finance (MOF) said here Friday.
The growth retreated from a 12.2 percent gain in March, during which fiscal revenue totalled 1.29 trillion yuan.
In the first four months of this year, fiscal revenue climbed 11.8 percent to 6.1 trillion yuan, said the ministry.
The ministry attributed the growth slowdown to a decline in value-added tax revenue, which dropped 11.2 percent in April. Meanwhile, consumption tax rose 17.9 percent to 96.8 billion yuan.
The ministry said it expects slowdown in fiscal revenue growth to continue due to the softening of some economic indicators and further influences from reductions in taxes and fees.
The government plans new tax cuts to reduce the burden on businesses, support innovation and stabilize growth in April, including simplifying value-added tax and income tax incentives for more small and micro companies.
Friday's data also showed that in April, the central government collected 821 billion yuan in fiscal revenue, up 6.9 percent year on year, while local governments saw fiscal revenue expand 4.9 percent to 1.45 trillion yuan.
In April, fiscal expenditures were up 3.8 percent year on year to 1.36 trillion yuan, while fiscal spending in the first four months jumped 16.3 percent to 5.96 trillion yuan.
China will pursue a more proactive and effective fiscal policy in 2017 to support economic growth, with the government fiscal deficit set at 3 percent of GDP, or 2.38 trillion yuan for this year, a year-on-year increase of 200 billion yuan.