China fiscal revenue up 14.1% in first quarter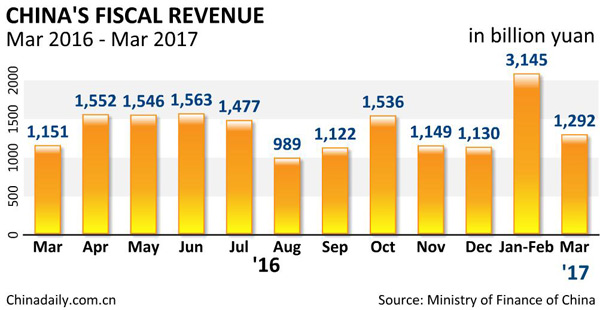 China's fiscal revenue has maintained fast growth since the start of the year on the back of surging prices and a firming economy, official data showed Friday.
Fiscal revenue rose 14.1 percent year-on-year to 4.44 trillion yuan ($645.9 billion) in the first quarter, the Ministry of Finance disclosed at a press conference.
The growth slightly retreated from the 14.9-percent gain seen in the January-February period, but was still markedly above the 4.5-percent rate in 2016.
In March alone, fiscal revenue went up 12.2 percent to 1.29 trillion yuan.
The ministry attributed the continued momentum to rising prices at the factory gate, a firming economy, and recovering exports and imports.
China's producer price index, which measures costs of goods at the factory gate, has stayed in positive territory since September last year, when it ended a four-year streak of declines, partly due to the government's successful campaign to cut industrial overcapacity.
The index stayed at an elevated level last month, rising 7.6 percent year-on-year.
The upward trend in turn boosted industrial profits and economic activities, which helped drive growth in tax revenues, according to the ministry.
Friday's data showed taxes collected from the corporate sector went up 18.8 percent due to increasing profits, while taxes from goods imports surged 41.9 percent.
The central government collected 2.02 trillion yuan in fiscal revenue, up 17.1 percent year-on-year, while local governments saw fiscal revenue expand 11.7 percent to 2.42 trillion yuan.
In the first three months, fiscal spending surged 21 percent year-on-year to 4.59 trillion yuan, among which expenditure on affordable housing jumped 46.8 percent to 135.3 billion yuan.
This year China's fiscal deficit is projected to be 3 percent of GDP, or 2.38 trillion yuan, according to the government work report last month.