Alibaba reaches out to US businesses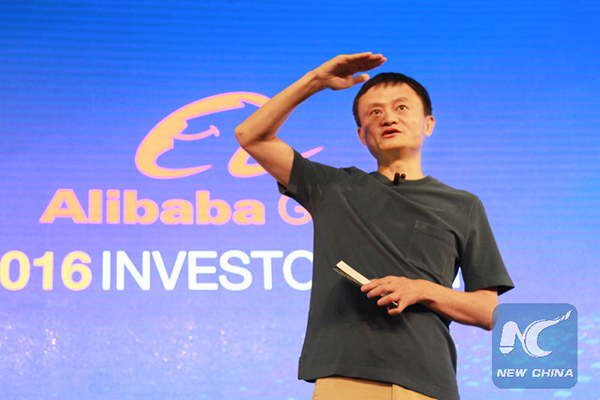 Alibaba's executive chairman Jack Ma delivers a speech at an investor conference at the company's headquarters in Hangzhou, East China's Zhejiang province, on June 14, 2016. The e-commerce giant Alibaba owns the online shopping platform Taobao. [Photo/Xinhua]
Founder and chairman of Alibaba Group Holding Ltd Jack Ma is planning to host a summit in Detroit aimed at attracting Americans who have an interest in selling to the world's largest consumer market: China.
The decision to hold the summit looks to be a step in fulfilling his pledge to create 1 million jobs in the country, a topic that was discussed during his meeting with then US president-elect Donald Trump in New York in January.
In a widely-circulated video footage, Ma talked about how China's rising middle class and their exploding purchasing power will fuel business growth and spell job opportunities in the US.
"By next year, China's online spending will be greater than the rest of the world combined. At Alibaba, we want to help you take advantage of this appetite for consumption through our e-commerce marketplaces," he said, referring to the slew of online shopping portals under its brand.
For example, Taobao and Tmall pair Chinese audiences with mom-and-pop and bigger sellers, while AliExpress connects foreign buyers with affordable made-in-China products. Tmall Global, on the other hand, is a key gateway through which Chinese consumers can purchase delicacies from around the world.
According to market research company eMarketer, Chinese consumers are projected to spend over $150 billion on foreign-made goods by 2020, a sign that the traditional Chinese trait of frugality is gradually being eroded by the free-spending attitudes of today's younger generation.
Factors such as rising disposable incomes, heavy smart phone usage and frictionless online payment have also pushed cross-border e-commerce in China to new heights, and consequently turned the online shopping operator into a $284 billion company.
Alibaba's 2016 Singles Day shopping festival, a 24-hour online retail event held every November 11, logged a record 120.7 billion yuan ($17.5 billion) of purchases bought from overseas virtual stores. Goods from the US generated the highest sales among foreign stores.
While established US brands from Apple to Gap have already established a presence in Tmall, tapping into half a billion Chinese buyers who long for authentic products, Ma said that he wishes to help extend this success to small American businesses that lack the resources and experience needed to navigate one of the world's most sophisticated consumer markets.
"It's partly because SMEs are reminiscent of Ma's early days when he was starting up his own business in an apartment. He is always looking to empower the smaller players," said Lu Zhenwang, an internet veteran and CEO of Shanghai-based Wanqing Consultancy.
The US summit, added Lu, will be an opportunity for Alibaba to remind the US audience of the strength of China e-commerce and it also underpins the company's renewed focus on reaching out to smaller businesses, something that was put on the sidelines when it prioritized growth at home.
The US is among a slew of destinations around the globe that Alibaba is aiming to establish a foothold in. Since the start of this year, the company has opened an office in Melbourne, signed pacts for importing Argentina's top agricultural products and vowed to march into Canada through a similar trade fair in September.
Ma has also been advocating a free-trade arrangement dubbed the "Electronic World Trade Platform". It features lowered entry barriers and easier access to loans for SMEs. The first prototype of the platform landed in Malaysia in March.