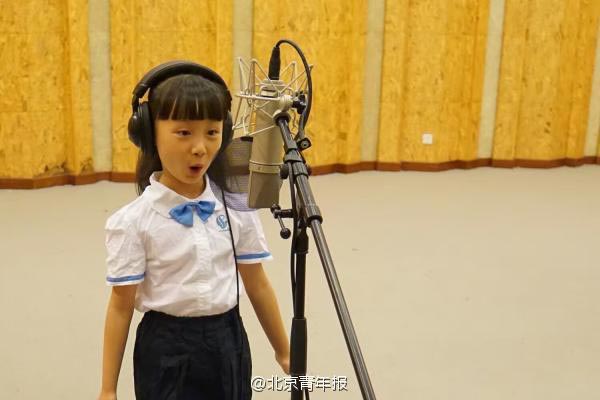 Xu Ziqi. [Photo/Official Weibo account of Beijing Youth Daily]
8-year-old Xu Ziqi is to perform Me and my motherland with renowned baritone Liao Changyong at the G20 Summit evening gala at West Lake tonight.
Xu was born in 2008 and is a second grader in Hangzhou.
Li Jun, Xu's mother, is a little surprised "at the chance that came so suddenly."
"On Aug 13, I received a call from a teacher at Hangzhou Youth Activity Center and they asked Ziqi to go for an audition to perform at the Summit. About twenty girls attended the audition, most of them having previously won awards at various musical competitions in Hangzhou. Ziqi was the youngest. At the end, Ziqi and two other girls were asked to prepare Me and my motherland and attend the final round of auditions on Aug 15. She had never heard of this song before and was only given a day to prepare, so it was quite a challenge for her," Li recalled.
When the mother arrived at the final audition with her daughter, she was even more surprised to see the director of the evening gala - award-winning Chinese director Zhang Yimou.
The three girls performed Me and my motherland with the backup of an orchestra. In the end, Zhang selected Xu.
Zhou Yi, a music teacher at the public school Xu attends, is confident her student will perform outstandingly.
"Xu Ziqi has a solid background in singing. I always ask her to demonstrate for everyone during our music classes. Whenever we need a lead singer, Ziqi was always a compelling choice," said Zhou.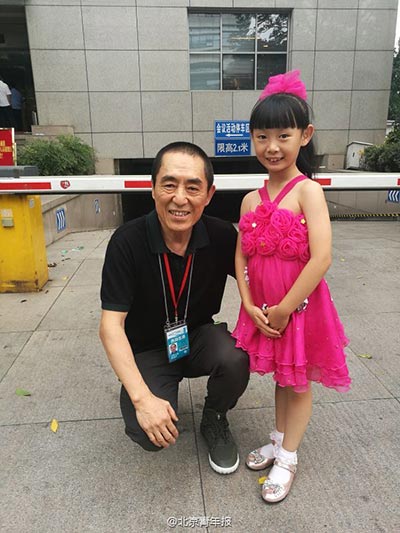 Chinese director Zhang Yimou (left) and Xu Ziqi. [Photo/Official Weibo account of Beijing Youth Daily]
Not only does Xu excel in vocals, she is well-rounded and an A student in drawing, Chinese and mathematics.
"Ever since Ziqi started to attend kindergarten at age three, we enrolled her in many classes, including performing, dancing, gymnastics and painting. She especially loves to sing and dance, so we enrolled her in individual lessons, which she still attends. She is also experienced with the stage having performed on several hundred occasions. Some are competitive in nature, and some are not," added Li.
Tian Yimiao, associate professor in music composition at Shanghai Conservatory of Music, said children are often selected to perform because of their beautiful crystal clear vocals.
"The voices of children are clean and sweat, with the connotation of sanctity, beauty and peace, giving listeners a serene, relaxed and pleasant feeling," said Tian.
"Children are often paired with basses. This time, it's with a baritone. They are not on the same voice part as the child's voice floats above that of a baritone. And with the added orchestral performance, it is a very creative combination that is worth looking forward to," added Tian.
Related:
Displaying the legacy of China's Grand Canal