Mentally impaired get a helping hand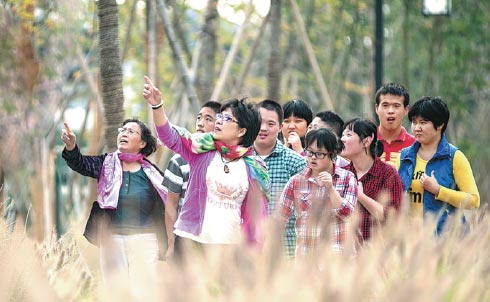 Xu Qin (second from left) makes a trip with the mentally impaired youngsters of Wanwan Care Center. The institution, founded by Xu, offers vocational programs for disadvantaged people. [Photo provided to China Daily]
The door to Wanwan Care Center is always locked-on purpose. Ring the doorbell on the wall, and you will be welcomed by a mentally impaired "child"-he comes, opens the door, greets you with a quick "Hello" and runs away.
It's one of the many rehabilitation methods that Xu Qin has designed for the 26 disabled people at the center. Although most are in their 20s, they have the mental ability of children.
The 52-year-old Xu is the mother of a mentally impaired son, and the founder of the first private nonprofit care center for such people in Hangzhou, Zhejiang province. She was named "the most beautiful person" for helping the disabled by the provincial government in 2015.
Xu knows the best way to help her charges is not only by providing them with care, but also teaching them life skills and providing them with jobs.
"The ultimate goal is that maybe one day they will no longer need help," says Xu.
Twenty-five years ago, Xu's son, Gao Hongyi, suffered brain damage due to an accident. Xu then quit her job to look after him and took him to the Hangzhou Yang Lingzi Special Education School.
After her son finished special education in 2009, there was no suitable place for him to go.
Xu still remembers her son's wish when he was asked, who do you want to be with after graduation? "His speech was limited but he said two words-classmates and teachers."
So together with other parents and his former teacher, Xu founded a small day care for her son and six others, which became the Wanwan Care Center two years later.
The name "Wanwan" connotes a harbor for the imperfect. It is inspired by a book written by Saburo Shochi, who founded Japan's first special education school in 1954.
At first, Xu's team tried to follow the curriculum of Yang Lingzi Special Education School, but it didn't work well. So they rented an apartment and started to teach basic life skills.
"Since then, we have been exploring a path of integrated treatment of teaching in reallife situations," says Xu.
"Every day, we do grocery shopping, cooking, laundry with the youngsters together."
Day after day, Xu and the teachers at the care center repeat lessons in their classroom of life.
"Slowly, they learn," says Xu. "Even when they show no improvement, it's still good news for us, because the daily practice and interaction may have already prevented the illness from getting worse."
The center has won recognition over time, and it moved to its current location in 2014, which is on the second floor of Jianggan district's Disabled Person's Federation. The space is provided by the local government for free.