Gains evaporate on Fed's rate rise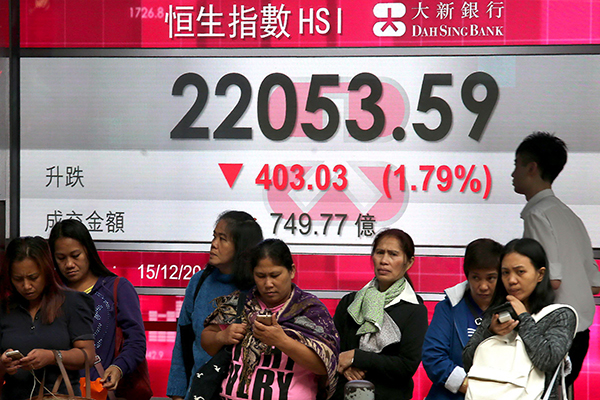 Pedestrians pass a Hang Seng Index screen in Hong Kong. [Photo/China Daily]
Property markets and financial services are most affected stocks
Gains by Chinese mainland and Hong Kong stocks evaporated on Thursday, after the US Federal Reserve raised its short-term interest rate for the first time this year.
The benchmark Shanghai Composite slipped by 0.73 percent, or 22.85 points, to finish at 3,117.677 on Thursday, while the Hang Seng Index (HIS) in Hong Kong hit a four-month low by dropping 1.77 percent, or 397.22 points, to close at 22,059.40.
The Fed surprised markets by forecasting three interest rate hikes next year, instead of the two quarter-point increases previously projected, pointing to a faster-than-expected tightening path looming ahead.
The Hong Kong Monetary Authority immediately followed the Fed's lead by boosting the base rate by 25 basis points to 1 percentage point for the second time since 2006, a logical move to maintain its currency's three-decade-long peg to the US dollar.
The base rate, charged by the HKMA through its discount window, serves as the best indicator of interest rates in Hong Kong.
HKMA Chief Executive Norman Chan Tak-Lam said the monetary authority would continue to track US rate moves by increasing the city's borrowing cost in a progressive manner. Such a rising trend would not come with a delay and "is expected to continue to be affected by the scale of outflows from Hong Kong dollar, international developments and other factors".
Though the Fed interest rate hike is widely anticipated, it could cause a shrinking monetary base of Hong Kong dollars.
The monetary base in Hong Kong at the end of October was HK$1.61 trillion ($207.5 billion), a drop of HK$700 million or 0.04 percent from the end of September.
Rate-sensitive sectors like property and financial industries became the biggest losers in Thursday's trading. The HSI Properties Sub-index tumbled 2.6 percent, making it the worst performer among the four major sub-indices. HSI Finance Sub-Index slumped 1.84 percent, roughly flat with the broader market.
Earlier this month, the International Monetary Fund warned in its working paper that the higher property valuations in the Asia's financial center mean the local economy is vulnerable if interest rates climb faster than expected.
The IMF flagged the soaring borrowing costs, Chinese mainland-linked stress and a possible downturn in the real estate market as the three main risks looming over the city.