Consolidation's the game in A shares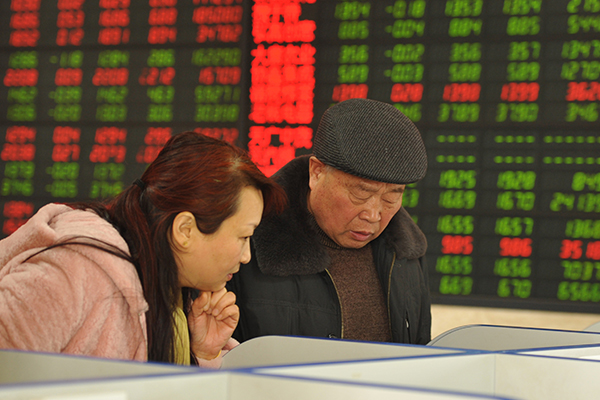 Two anxious investors check stock quotes at a brokerage in Fuyang, Anhui province, on Dec 5, 2016. [Photo/China Daily]
A sense of uncertainty over both policy direction and yuan weakness could well hurt investors' risk appetite
China's A-share market is expected to enter a "consolidation period" as growing inflation expectations will likely subdue investors' risk appetite, analysts said.
The benchmark Shanghai Composite Index has rebounded by more than 20 percent from January's low, entering the technical bull-market territory.
Market analysts believe that investors' expectations about monetary policy, especially inflation, are key to determining the future trend of the A-share market.
"We expect the inflationary expectations to rise and stay elevated in the short term, especially over the next few months. This will affect policy expectations of the market and subdue investors' risk appetite," said Qin Peijing, an analyst with CITIC Securities Co Ltd, in a research note.
Qin noted that the 10-year government bond yield has surpassed 3 percent, a reflection of investors' concerns over China's monetary policies, especially over the People's Bank of China's intention to guide deleveraging in the bond market.
While most economists believe that the Chinese economy is capable of achieving a growth rate of over 6.5 percent in 2017, some said that Beijing will likely face an increasing policy dilemma in the future.
"We believe China will be able to achieve the 6.5 percent growth target due to strong fiscal easing in 2017. But this requires further credit expansion, which will exacerbate the risk of property bubbles and intensify capital outflows," said Liu Linan, a strategist at Deutsche Bank. He added that the falling renminbi exchange rate could also have an adverse effect on the market.
Meanwhile, the US Federal Reserve Open Market Committee is due to meet this week and the expectation is that they will raise interest rates, while sticking to the plan of a gradual rate hike until the policies of the Trump administration become clearer.
Economists said any rate hike by the US Federal Reserve would likely limit the room for changes in China's monetary policy. And, the persistent strengthening of the US dollar will continue to weigh on Asian asset prices.
Despite the uncertainties, some fund managers said they will continue to bet on the opportunities in the structural shifts of the Chinese economy as well as on beneficiaries of the reforms.
"In 2017, Chinese policymakers are likely to maintain a pro-growth stance. Monetary policy will shift back to a more neutral stance with inflation returning. Fiscal policy will remain very accommodative," said Ning Jing, a portfolio manager at Fidelity International.
"Investors should also not overlook opportunities in traditional sectors that still continue to be the backbone of the economy," Ning said.
She noted that supply-side restructuring in steel and coal will weed out the inefficient players. So, companies with healthy cash flows, strong management teams, and attractive dividend yields will continue to deliver returns.
Qin, at CITIC Securities, suggested that investors take a conservative approach to trading stocks and keep an eye on marginal changes in the business climate.
He warned that a potential risk could be that China's monetary policies tighten in a way that beats market expectations or, in the opposite direction, faster renminbi depreciation could cause capital outflows to accelerate.