A-shares may get fillip as 21 companies receive nod to manage pension funds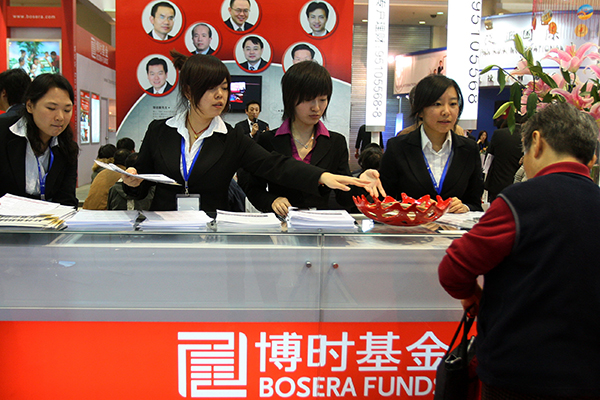 Employees of Bosera Funds provide consultation services at the company's booth at a finance expo in Beijing. [Photo provided to China Daily]
The first batch of 21 Chinese pension-fund management institutions were approved on Tuesday afternoon. This move is expected to shore up the A-share market greatly.
The National Council for Social Security Fund released on its official website the list of approved companies, including 14 fund management companies, six insurance companies and one securities firm. Among these are China Asset Management Co Ltd, China Life Pension Co Ltd and CITIC Securities. Pension funds previously stayed in bank deposits or treasury bonds, with low yields.
"Based on related regulation, we selected the 21 qualified investment institutions after strict examination and approval processes," said the statement of National Council for Social Security Fund.
Wang Guojun, an insurance professor with the University of International Business and Economics, said it's good to have the option of such managed investments, or the investment return of pension funds cannot be guaranteed.
"It shows confidence in the investment institutions' performances and the release is positive for boosting the A-share market," said Wang.
Wang said the first batch fund of 300 billion yuan ($43.6 billion) is expected to be placed under the management of the qualified investment institutions.
Hong Hao, chief strategist at BOCOM International, said it's positive for the domestic stock market and this approach has been proven by international experience.
According to Hong, pension funds are managed by professional institutions in the United States, and the system is similar in Singapore.
But, Hong said, it does not mean that now is the best time to invest in the A-share market, because these qualified pension managers will start to open positions in the next six months to one year.
In October, the Ministry of Human Resources and Social Security said the first batch of pension fund management institutions would be chosen by the end of this year and would officially launch their operations.
China's pension fund assets totaled 3.99 trillion yuan at the end of 2015, according to data from the Ministry of Human Resources and Social Security.
On May 1, the national guideline to regulate the management of the pension funds took effect. It is the first of its kind issued by the central government.
The guideline allows the country's pension funds to invest in more diversified products with higher risks, such as stocks and private equity funds.