Plunge, as new curbs start to bite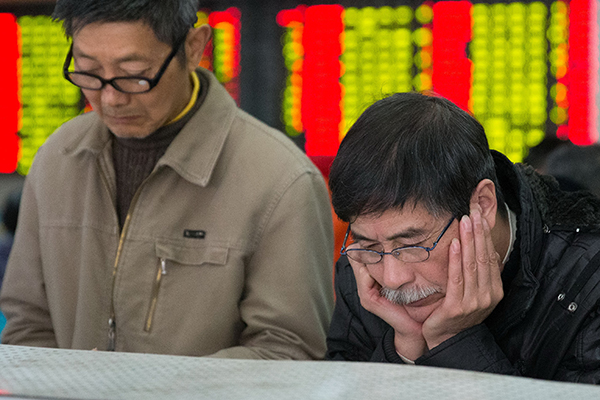 Investors check share prices at a brokerage in Nanjing, Jiangsu province, Dec 12, 2016. [Photo/China Daily]
Concerns rise over limits on insurers' stock investments
Chinese mainland stocks fell the most in six months on Monday as the insurance regulator's clampdown last week on aggressive stock purchases by insurers triggered selling.
Blue chips-insurers' favorites-led the decline in the benchmark Shanghai Composite Index, which tumbled 2.47 percent to 3,152.97 points.
The Shenzhen Component Index fell 4.51 percent while the startup board ChiNext suffered an even bigger loss of 5.5 percent.
Nearly 200 stocks tumbled by the 10 percent daily trading limit. Insurer favorites such as property developer China Vanke Co, home appliance maker Gree Electric Appliances Inc and construction group China State Construction Engineering Corp all fell more than 6 percent.
Monday's selling came after the insurance regulator on Friday banned Evergrande Life Insurance Co from trading in stocks for its "improper use of capital" and "unclear asset allocation plan".
Foresea Life said in a statement on Friday it would gradually reduce its holding in Shenzhen-listed home-appliance maker Gree.
The move came after the top securities regulator censured insurers' reckless stock market play for "barbaric" acquisitions that challenged the country's financial and legal system.
"The regulators' harsh criticism and tighter control of insurers' stock investments have had a marked effect on the market, which will inevitably enter a period of consolidation," said Sun Zheng, an analyst at China Development Bank Securities Co Ltd.
Gao Ting, the chief China strategist at UBS Securities, said that the insurance regulator may be focusing more on compliance with protection product development management and usage of insurer funds, and less on insurers' compliant and lawful equity investments.
Analysts said Monday's plunge also reflected that the market sentiment may be worsening as prospects for a US rate hike this week brighten.
Also, the higher-than-expected domestic inflation in November could push the central bank into adopting a tighter monetary stance in 2017, they said.
While Chinese equities have negotiated 2016 without much turmoil on the back of the country's supply-side reforms and credit risk containment, things could turn tougher for investors in the new year, said Wendy Liu, the chief China strategist at Nomura Securities.
"Beijing has put in concerted measures to curb excesses in the property and financial markets, as well as capital outflows," Liu said.